Attempting to Relive the Magic: Virtual Museums of Varying Quality
Museums are cool, and it is a travesty that we have not been able to visit one due to COVID-19. Walking through the hallways in silence, silently gaping at the cool [insert museum thing] as you glide from exhibit to exhibit, sharing in the camaraderie of museum-goers of all kinds, is an experience that is purely human: the sharing of art, of experiences, of passion. Unless you were dragged there against your will, in which case you're desperately looking for a cafe to rest your aching feet (seriously, museums need more benches and water fountains).
Thankfully, many museums now offer various methods of sharing their exhibits remotely. I, so cursed for my hubris, decided to take a look at some of them. 
The British Museum (London, UK)
The British Museum is probably the pinnacle of website-based museums. The 3D tour is only available as the Google Arts and Culture tour… but much of the museum is artifacts and ruins anyway, so the lost resolution isn't too important. And getting to start in the Great Court is magical. The architecture of the gridshell, self-supporting glass roof, designed by Foster and Partners, is art in itself. In fact, "walking" through the British Museum is a large part of the experience, the architecture being unlabelled art pieces themselves.
But the real star of the show is the interactive artifact tour. The soundscape is phenomenal; the little sounds that play as ambience and interacting with the artifacts is super satisfying, like wind chimes. The categorization is very simple and easy to follow. You can select a single artifact and see how it connects to other artifacts within the museum, like a constellation. You can select "Find out more" and learn more about the object, listen to a short recording of someone talking about it, even go to a Google Maps extension that tells you exactly where it was found. My only nitpick is that some of the controls are a bit unintuitive.
The Museum's partnership with Google and several high-end artists means despite the impressive features, it is still a minimalist and clean website that is supremely optimized. I cannot recommend it highly enough.
Van Gogh (Amsterdam, Netherlands)
The Van Gogh Museum is exactly what it sounds like: it has detailed descriptions of the entire catalogue of paintings, sketches, drawings, and the many letters Vincent Van Gogh created in his lifetime. 
The 3D tour is only available on Google, as part of Google's Arts and Culture program. It's good for the experience of "walking" around the physical museum, but you need to go to the official website to really admire the artwork and the stories they tell.
One thing I must note is they have a podcast talking about Van Gogh's letters, since they were very important to his life. You can only access it in the Dutch language setting for some reason, but you can use Chrome's built-in translate feature to navigate the website anyway.
The art and physical museum is enough to recommend, though I somewhat dislike the compression of the images (it defeats the purpose of looking at Van Gogh's intricate paintings, you know?). The website, explanations of Van Gogh's life as well as his work, and the extra information and education it provides is another massive recommendation as well.
Vatican (Vatican City, Vatican)
I mean…it's the Vatican. What do you want from me? 
The 3D experience is oddly a separate platform, and slightly slower than Google's. It's pretty cliché, but does have a few unique angles (you can really zoom in on Adam's nakedness). Still, as someone who has visited before, it is very cool to look at the Vatican without thousands of people pressing up against you at every angle. It's therapeutic and awe-inspiring to look at Michelangelo's masterpiece (that he hated). Pretty relaxing too.
However, this virtual tour does not contain The School of Athens.
Mori Art Museum (Tokyo, Japan)
This one is a bit more niche, but I did like it. The Mori Art Museum is a rather small museum about urban planning and architecture, as well as related arts, so it has a nice postmodern feel to it. Plus, the 3D walkthrough has interactive videos for some exhibits (most have English subtitles) as well as detailed descriptions. It does have a few visual glitches, but is otherwise more polished and curated than the Google tour.
I would especially recommend this museum for the video art section, MAM Digital. All the video art is super cool, and works just as well remotely as it does in-person. It is also a rather small museum, so it is good for a short "visit.
"3D walkthrough: https://www.mori.art.museum/en/exhibitions/future_art/06/index.html
National Palace Museum (Taipei, Taiwan)
The National Palace Museum in Taipei is notorious for being absolutely massive, and I think the tour and other remote resources do it justice. The first thing is that the virtual tour allows you to walk around the outside of the palace. I haven't personally been to Taipei, but I like to think this is a nice little portrait of a nice summer day in a city across the world. Thankfully, there is a map, as well as a legend that you can use to immediately skip to certain sections. The UI is good as well, and although not all of it is English, most is. The interior is also great, as it is a world class museum, and the sheer diversity of art, artifacts, etc. is daunting. Just seeing the outside, walking through the main gate, has an unimaginable sense of scale.
However, the absolute size of the tour means that it is very slow, much slower than its counterparts that use Google Street View. This is usually the worst in the outside sections, and the interiors are generally faster. 
There are also exhibits and art descriptions on the website that are nice, such as 360-degree panoramic views of the Lantern Festival in the Forbidden City. 
If you're patient about load times and want a massive, winding, long experience, this is a high-recommend.
Museu Nacional d'Art de Catalunya (Barcelona, Spain)
This one is an odd case. The museum itself is nothing super special: it's an art museum, one regarding art from Catalonia and Spain. The art is nice, and unique because it focuses on Spanish art, and farther from that, art specifically found in Catalonia.
The virtual tour, though, is…something else. There is only one, rectangular room just chock full of paintings and illustrations. Other than that, it is just a whole lot of empty space and a few smaller exhibits. The whole tour is also eerie; the walls are uniformly smooth and are oddly lit. 
Now, this may seem bad, but… I like it. It's so different. I think this virtual museum is a 3D render, with the artwork being scanned textures. Beyond the strange, mid-2000s, Half Life 2 mod aesthetic, there is motion blur when you look around, and everything is just too smooth to be a Street View-like camera tour. The amount of effort needed to do that, to 3D render a room with HD artwork and that much user control, is certainly impressive. If it were larger, the amount of free reign the user is given could be a truly next-generation museum format.
Can I really recommend it though? I don't know. The UI is abysmal: it has reversed controls, meaning moving your mouse left makes the view move right, and is made worse by the incredibly high sensitivity. It also has motion blur, which I intensely dislike (especially in an art museum, which emphasizes being able to see your surroundings). The way you can learn about the art, by clicking on each exhibit to get more info, is nice and aesthetically pleasing, but the mouse periodically disappears from the screen. The website is also very taxing on your computer, and noticeably slowed down my internet connection. And, of course, the tiny map is limiting and uncomfortable. 
I really can't pin this one down; it's just odd. I admire the forward-thinking, I truly think a video game-like format is the way of the future, but the current version just seems like the alpha version of a revolutionary video game.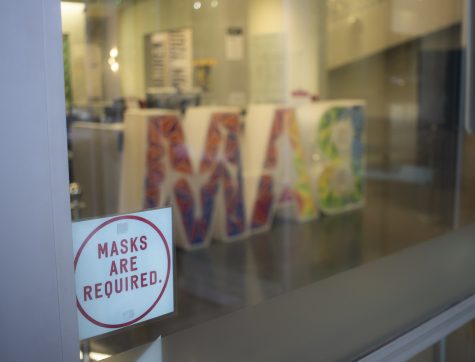 Bellevue Art Museum (Bellevue, WA)
Unfortunately the Seattle Art Museum does not have any exhibits that are available online. The Bellevue Art Museum does have one of sort, in the form of a bunch of videos by their Executive Director & Chief Curator, as well as descriptions of each of their exhibits, current, upcoming, and past. Their exhibits also change regularly, which I suppose fits the website style.
Unfortunately not much else is available, but it is a nice little museum in Downtown Bellevue that shows off a lot of local art. I'd recommend giving them a visit post-COVID.
Overall, it's impossible to recreate the unique life experience of going to a museum and walking down the hallowed halls and rooms, admiring the exhibits for their artistry, history, or some other interesting adjective that ends in "-ry." However, looking through the various museums throughout the world trying to cope with these circumstances is entertaining on its own. And of course, being remote has its benefits: anyone with a decent computer and an internet connection can now visit the most prestigious or niche museums in the world. This allows an unprecedented level of possible public access.
In the end, after all, that's what art is about: sharing it.
Leave a Comment