Year in Review
September:
World
September 8: Queen Elizabeth II dies at age 96 after being the UK's longest-reigning monarch.
September 16: Mahsa Amini, a 22-year-old Iranian woman, dies after allegedly being apprehended and beaten by Iran's "morality police" for not wearing her hijab correctly. Her death sparks a months-long movement protesting the restrictions placed on Iranian women.
School
September 1: Upper schoolers attend convocation at the Middle School; Dr. Bynum makes waves by affirming that he believes Lakesiders "are special," in contrast with his predecessor's remarks. 
September 30: Lakeside hosts its first tailgate of the year with an afternoon of free BBQ and merch as the Lakeside girls' varsity soccer team faces off against Ballard. 
October:
World
October 27: Elon Musk acquires Twitter for $44 billion following months of legal drama and fundraising.
School
October 1: Lakeside hosts its first ever homecoming dance in the WCC after a long campaign from student government representatives.
October 20: Dr. Mona Hanna-Attisha speaks at assembly on her role in exposing the Flint water crisis and the importance of using science for the advancement of social and environmental justice. 
November:
World
Nov 8.: Polls close on the midterm elections, giving Republicans control of the House and maintaining Democratic control of the Senate. Republicans did not receive the "Red Wave" many pundits expected after experiencing key losses in battleground districts. 
School
Nov. 3-5: The Upper School puts on a performance of A Midsummer Night's Dream for the Fall play. 
Nov. 8: A student at Ingraham High School is fatally shot by another student in a bathroom. Following the shooting, Ingraham and Lakeside, which is just 0.8 miles away, went into an extended lockdown until the shooter was apprehended. 
Nov. 14: Hundreds of students from across Seattle walk out and demonstrate outside of City Hall for greater safety in schools.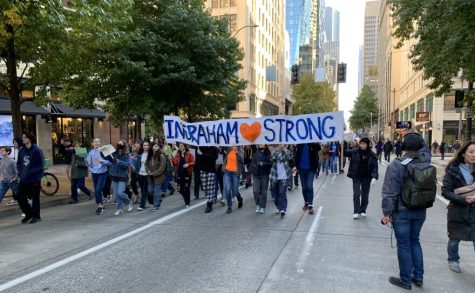 December:
World
Dec. 18: Led by captain Lionel Messi, Argentina's national soccer team wins the World Cup after a fierce and tense battle against France that ended in penalty shootouts.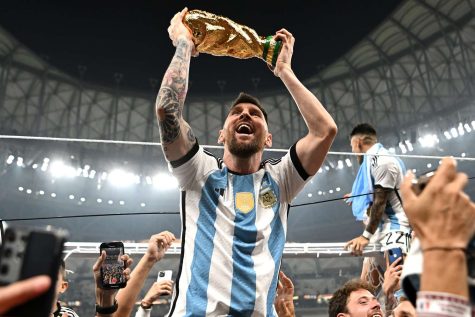 Dec. 23: Winter storms cause icy streets in Seattle, causing many to lock themselves indoors for the day and producing a host of videos of parked cars sliding. 
January:
World
Jan. 6: Kevin McCarthy is narrowly elected Speaker of the House after fourteen failed attempts. His ultimate success comes amid a slew of compromises made with ultra-conservative representatives.
School
January 6: Lakeside hosts its first post-pandemic Pride Night during a basketball quad-night, where boys teams play Lincoln and girls teams play Ballard.
January 26-28: There is certainly no misery in the air as Lakeside puts on a performance of Victor Hugo's legendary Les Miserables for the annual Winter musical. 
February:
World
Feb 4: The U.S. shoots down what the media has dubbed the "Chinese spy balloon" off the coast of South Carolina. The balloon was first noted off Alaska's western coast and spent the next days migrating across portions of Canada and the Midwest.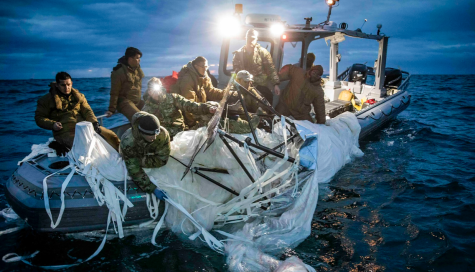 Feb 6: Southern Turkey and Northern Syria are devastated by a 7.8 magnitude earthquake that results in over 59,000 deaths and 130,000 injuries. 
School

Feb. 9: Harvard Professor Michael Sandel gives a three-hour interactive presentation in the gym on the ethics of how we assign value to certain professions.
Feb. 27: As students return from mid-Winter break, "Project Cuckoo" is implemented during the Tapas schedule. The day has teachers swap classes and host fun, unusual activities.
March:
World
March 13: Pres. Joe Biden approves a $7 billion project in Alaska to drill for oil amid calls for further measures against climate change in his own party.
March 31: A grand jury in New York votes to indict former President Donald Trump on 34 counts of falsifying business records after it was alleged that Trump fraudulently hid "hush money" payments made to adult film actress Stormy Daniels during his 2016 bid for the presidency.
April:
World
April 15: War breaks out in Sudan's capital Khartoum after political disagreements between the army and a paramilitary force boil over into the streets. As of writing, over 900 people have been killed and more than 5,500 have been injured.
April 21: Gov. Jay Inslee signs a trio of gun safety bills, including a ban on the sale and distribution of assault weapons.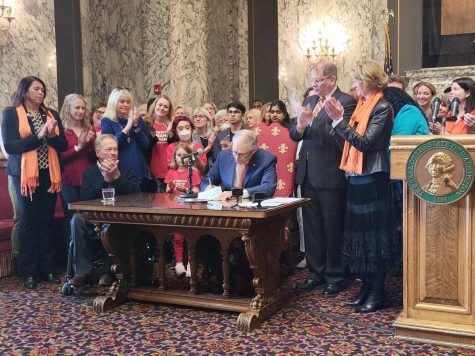 School
April 5: On Student Sponsored Day, GLOW hosts a series of workshops and speakers. House assembly follows in the afternoon.
May:
World
May 11: Title 42, a controversial border policy implemented during the COVID pandemic, expires. While it was active, the policy allowed the federal government to return migrants who crossed the U.S.'s Southern border to Mexico and suspend their rights to asylum, citing public health concerns because of COVID..
School
May 15: May Day is hosted at the upper school on a sweltering sunny day. Highlights include Dr. Bynum being dunked in the dunk tank and music performances (including bagpipes!) on the stage.
Leave a Comment