2022 in Review
WORLD NEWS
February 4: The 2022 Winter Olympics begin in Beijing, China. The United States finishes the competition in fourth place with eight gold medals.
February 24: Russia invades Ukraine, prompting an ongoing conflict that has led to tens of thousands of military deaths on both sides, thousands of Ukrainian civilian deaths, at least 7.8 million Ukranians fleeing the country and global food shortages.
March 28: Florida Governor Ron DeSantis signs the Parental Rights in Education Act, which bans discussion of sexuality or gender identity "in a manner that is not age appropriate or developmentally appropriate for students in accordance with state standards." Critics dub the bill the "Don't Say Gay" law and protest its restriction on education about the LGBTQ+ community, and many students hold walkouts in opposition to the bill.
May 6: The first cases from the 2022 monkeypox outbreak are reported in London. There have since been nearly 80,000 confirmed cases of the virus, which causes a fever and a painful rash.
May 24: Nineteen students and two adults are killed in a school shooting at Robb Elementary School in Uvalde, Texas, in the third-deadliest school shooting in the United States. Law enforcement comes under fire for waiting outside the school for over an hour before entering to engage the shooter.
June 24: The Supreme Court overturns Roe v. Wade, the landmark case guaranteeing the right to an abortion nationwide. Since the decision, 13 states have fully banned abortions with few exceptions, and in an additional 10 states abortion is  legal for now as bans are being contested in the courts.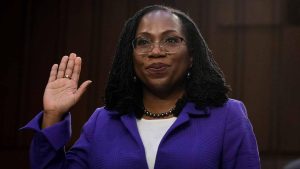 June 30: Ketanji Brown Jackson is sworn in as the first Black woman to serve on the Supreme Court after being nominated by President Biden in February.
July 8: Former Japanese prime minister Shinzo Abe is assassinated during a campaign speech.
July 11: The first images are published from NASA's James Webb Space Telescope, which launched in 2021 after years of delays and budget excesses.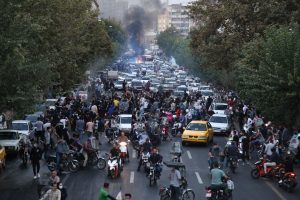 September 16: The killing of 22-year-old Mahsa Amini by Iran's morality police ignites nationwide protests calling for increased women's rights in Iran and the dismantling of the government. The government responds with internet blackouts and the use of tear gas and guns against protestors; at least 448 protesters have been killed and 18,000 arrested.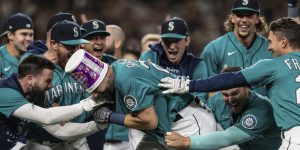 October 1: The Seattle Mariners clinch the wild card spot in the MLB playoffs, ending their 21-year playoff drought, the longest of any major sports franchise.
October 27: Elon Musk buys Twitter for $44 billion, promising to lift restrictions on speech on the platform. Since then, he has reinstated many formerly banned accounts, raising concerns about the spread of misinformation on the platform. Musk has also laid off around half of the company's workforce and fired top executives, including former CEO Parag Agrawal.
November 1: Citing the availability of tests, vaccines and treatments, Governor Jay Inslee lifts Washington's COVID-19 state of emergency, which was first declared in February 2020.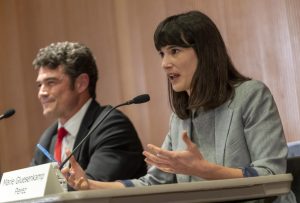 November 8: In the midterm elections, Republicans narrowly gain control of the House of Representatives, and Democrats maintain control of the Senate. One of the election's most surprising upsets is in southwest Washington, where Democrat Marie Gluezenkamp Perez defeats Republican Joe Kent in a right-leaning district.
November 19: Hours before Transgender Remembrance Day, which honors transgender people killed in hate crimes, five people are killed and 25 are injured in a mass shooting at Club Q, an LGBTQ+ nightclub in Colorado Springs, Colo.
December 8: WNBA star Brittney Grimer, who was detained in Russia since February under smuggling charges, returns home after a prisoner swap for Russian weapons dealer Viktor Bout.
LAKESIDE NEWS
April 8-17: The first GSL trips since the pandemic feature week-long trips over Spring Break to the US-Mexico border in San Diego/Tijuana, Nogales and El Paso/Ciudad Juárez.
May 16: May Day returns, including student-led workshops and a schoolwide dance performance led by the Massive Monkeys.
May 19-21: "Matilda" runs as the first in-person musical since the pandemic.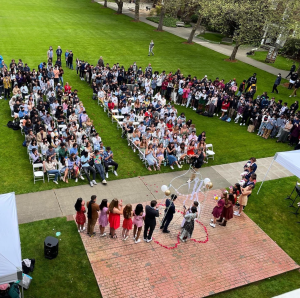 May 26: The senior prank for the 2021-22 school year is a mock wedding in which Hieu T. '22 "marries" Ann H. '22; the wedding is complete with an arch and classmates walking the bride and groom down the aisle.
May 28: The boys and girls tennis teams both win the state tournament in Richland.
June 9: The class of 2022 graduates and Bernie Noe retires as head of school after being at Lakeside for 23 school years. In his retirement, he plans to co-found a leadership network for heads of private schools and plans to spend more time with his grandchildren and reading.
August 31: The first day of school for the 2022-23 school year. The new year sees the arrival of new faculty and teachers, including Dr. Bynum, Mr. Boccuzzi and Ms. Suttell.
October 1: Lakeside's first-ever Homecoming dance is held in the WCC and Student Center.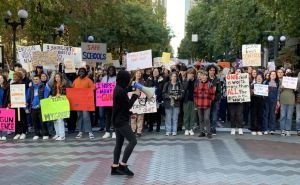 November 8: Lakeside locks down following a shooting at Ingraham High School in which one student is killed. Many Lakesiders participate in a student walkout and rally at City Hall the following week to protest gun violence in schools.
November 3-5: The Shakespeare comedy "A Midsummer Night's Dream" runs as the fall play.
November 18: Lakeside girls volleyball wins the state tournament with a 3-0 victory against Spokane's Mead High School.
Leave a Comment
About the Contributor
Zane R. '24, Editor in Chief
Review: Zane: The Movie (★★★★☆)

Released in early 2006, Zane quickly became a fan favorite. A charming and lovable fella, Zane has captured...