Revisiting the Beijing Olympics: Sports Face Somber Realities
Two weeks ago, the 2022 Beijing Olympics concluded with a ceremony featuring snowflake symbolism, interpretive dance, and the passing of the torch. Yet what should have been an exultant tribute to global unity and athletic achievement seemed reduced, somehow, by enduring political crises and newly introduced controversies. If you need to be caught up, here are the biggest stories from the Games.
Skater Nathan Chen Achieves Redemption
American Nathan Chen pulled out all the stops to win his first Olympic gold. He landed all three jumps in his record-breaking short program and followed with a nearly perfect Elton John-themed free skate. The medal was a redemption of sorts, after he placed a disappointing fifth at the 2018 PyeongChang Olympics; this time around, Chen exuded confidence and performed flawlessly.
Yuzuru Hanyu, the defending Olympic champion with two gold medals to his name, was also a favored contender coming into the Beijing Games. However, tough falls in both skates put the Japanese skater out of medal contention. His two teammates, Shoma Uno and Yuma Kagiyama, respectively won bronze and silver.
Skier Mikaela Shiffrin Stumbles
Sky-high expectations seemed to impact American skier Mikaela Shiffrin's performance in alpine skiing this year. A highly decorated athlete, Shiffrin had won 73 World Cup races and three Olympic medals prior to Beijing.
Shiffrin failed to medal in all five individual events she attempted, ending her three best events with DNFs. By the end of the Games, however, she managed to put together clean runs in the alpine skiing team event. While Team USA narrowly missed bronze in that competition, Shiffrin expressed gratitude for her fellow skiers and called the event her "favorite memory" of the 2022 Olympics.
Worldwide, Crises Continue
Despite extensive isolation and the complete removal of audience members, Beijing could not escape COVID. Positive tests for athletes like American figure skater Vincent Zhou invalidated years of training at the highest level and led to difficult quarantine conditions with limited food and no fitness equipment. 
The Russia-Ukraine conflict, meanwhile, cast shadows over an event that prides itself on peace and solidarity. Though Russia held off on a full-scale invasion during the Olympics, it launched troops almost immediately afterwards. Under the double load of China's Zero-Covid policy and Russia's aggression, these Games seemed less celebratory and more ominous than ever.
Women's Skating Ends in Tears
Perhaps the biggest story to come out of Beijing was the scandal of ROC skater Kamila Valieva. After Valieva helped the ROC win gold in the team skating event, it was revealed that she had three heart drugs in her system at the Russian National Championships in December, including one substance banned from competition. Against appeals by the IOC and ISU, the Court of Arbitration for Sport allowed Valieva to compete and avoid suspension in Beijing. It cited Valieva's age (15) and her inability to mount a timely defense in its decision.
This news was highly concerning, considering Russia's recent state-sponsored doping program in Sochi and its disregard to fair play. Yet it also appeared to have affected Kamila, who finished the individual event with uncharacteristic falls and left the rink in tears. One can imagine the mental stress such controversy would put on an athlete as young as many Lakeside underclassmen.
Valieva's story and the success of her two teammates, both teens, brought the dark truth of Russia's women's skating program into the light. Under authoritarian coaches like Eteri Tutberidze, the program serves as a pipeline for young skaters who reach dazzling heights of success before quickly fading into obscurity or getting injured. Notably, silver medalist Trusova broke down after losing to teammate Shcherbakova even after completing five quad jumps in her free skate: "Everyone has a gold medal, everyone, but not me. I hate skating. I hate it… I will never skate again."
Chinese-American Pros Face Expectations
Two very different scenarios played out for figure skater Zhu Yi and freestyle skier Eileen Gu, two Chinese-American athletes who competed for China in Beijing. As Gu was lauded on Chinese social media for winning two golds and a silver in a sport the country is not known for contesting, Zhu was attacked for falls in the team and individual skating events. In East Asia, where Olympics success is linked to national pride and strength, criticisms of Zhu were tied to her lack of fluency in Chinese and occupancy of a spot that could have gone to a Chinese-born skater. Meanwhile, medals, fluency, and a model appearance allowed Gu to garner broad support and become a poster child for China.
Alongside Kamila Valieva's controversy, these contrasting reactions reflect a broader, sometimes toxic pressure on athletes to perform. This pressure lands especially heavily on women figure skaters, who are often extremely visible representatives of their countries.
Uyghur Genocide Endures Scrutiny
An oft-ignored undercurrent of the Beijing Games, the Uyghur Genocide is an ongoing campaign by the Chinese government to suppress the Uyghur ethnic minority through re-education camps, forced sterilization, and other human rights abuses. It was the reason for diplomatic boycotts of the 2022 Olympics by the U.S., UK, Australia, and Canada. However, China has received little but slaps on the wrist from the international community for its actions.
So what does the future of the Games look like? The Olympics is no stranger to disease troubles and geopolitical tensions; take Rio, Sochi, and Tokyo as examples. Yet the Beijing Winter Games were uniquely situated in that upheaval erupted not only within sports, but also at an international level—both with potentially lasting consequences.
While Lakesiders were divided on whether the Olympic Committee should take a stance on the political issues affecting its host cities, there's no question that said issues have a sizable impact on the viewing experience. These Games seemed less wondrous and fun than before, in large part due to overshadowing struggles across the globe. Despite quadrennial feats of athletic bravery, sportsmanship, and human achievement, it's difficult to feel hope—right now, at least—for a truly neutral and celebratory Olympics.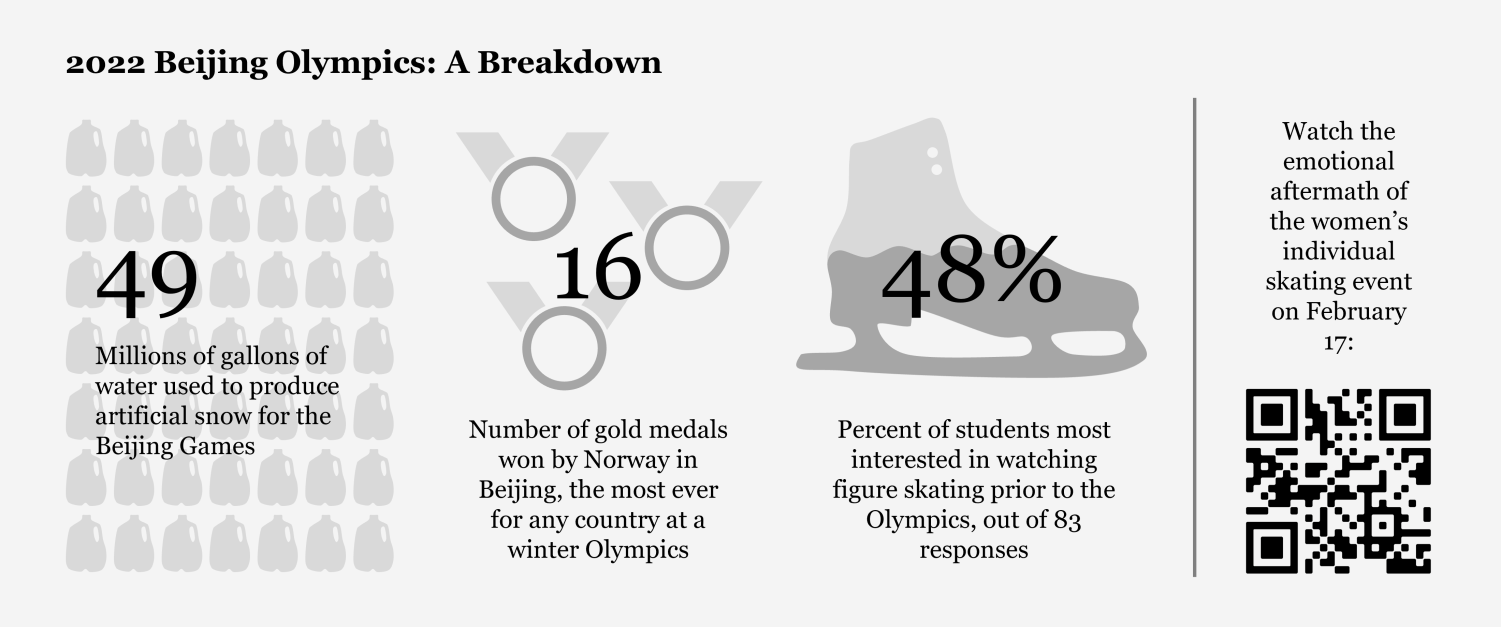 Leave a Comment