Random Athlete Questions
Hello. Hi. How are ya? Our names are Lily and David and boy are we are going to take you on a journey in this article. Have you ever wondered about the secrets behind those Greek Gods we call Lakeside athletes? Well calm yourself because the wait is over. For the first time in Tatler history (that we know of) we are going to be spilling all of the sports tea with some never before read athletic stories from your captains (or at least the ones that responded to our emails).
Football
How long did it take you to put your pads on for the first time?
Max D. '21: It took me around 20 mins and I used a t shirt and pulled it over my shoulder pads because i didn't have a jersey
Is there a practical use of the eye black that you use for games or does it just look cool?
Max D. '21: In theory it helps with the sun/light glare but that's pretty much bs it mostly just looks cool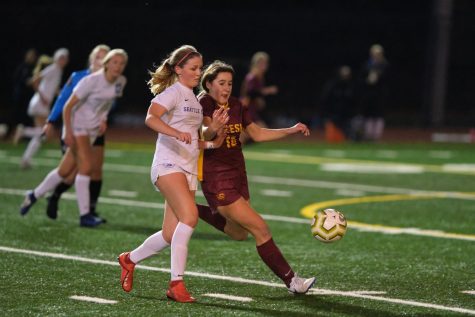 Soccer
What's the stupidest thing you did as a freshman on the team?
Ruby K. '20: Wore a grandma wig to school with Laurel for the game-day spirit. 
What's the hardest workout your coach makes you do?
Ruby K. '20: PLINKO
How long was the longest lasting ball print you've had on your body (like when the ball hits you super hard and you can see the lines on your skin)? Where was it?
Ruby K. '20: Two or three days! And on my thigh. 
How do you manage playing against members of your club teams who play for rival schools?
Ruby K. '20: You just do it. I hate playing against my friends and club teammates because I'm a really aggressive player and don't like to be aggressive towards people I know. 
Swimming
How the heck do you stay warm at meets?
Arianna S. '20: Fluffy crocs and a parka—meets are much warmer than outdoor practice, though!
Scarlet S. '20: ALWAYS bring an extra towel and your boat jacket! 
Nathalie V. '20: Swim parka, fuzzy socks, and shoes- a REAL fashion statement.
What's the strangest thing you've heard in the locker room?
Arianna S. '20: Some members of the Swive team did a pretty amazing cover of "Whatcha Say" by Jason Derulo.
Nathalie V. '20: Not really sure… a lot is said in the locker rooms. It's often fun to hear everyone's reaction from the hard sets at practice.
What's the stupidest thing you did your first year swimming?
Arianna S. '20: I thought it was a good idea to bring skinny jeans to change into after morning practice and it took me 10 minutes just to get them on so I was almost late to school. 
Nathalie V. '20: I started swimming when I was 5 and, at my first meet, swam all the way across the pool but forgot to touch the wall. The timers kept telling me to slam my hand on the wall, but I just didn't get the memo.
Have you ever belly-flopped into the pool by accident? How does one recover from a belly-flop into the pool?
Arianna S. '20: Diving is not my strong suit, so I definitely belly-flop more often than I would like! It's much easier to recover in practice than at a meet where everyone hears the loud smack, but either way, it's more emotionally than physically painful. 
Scarlet S. '20: Everyone belly flops off a dive at some point in their life; you just have to accept the pain and laugh about it with your teammates. 
Nathalie V. '20: Yes- just keep swimming!
Volleyball
What has been the sweetest moment with an upperclassman when you first started playing your sport?
Catherine Mader  '21: When all the seniors took me out to Panera after I made Varsity my freshman year.
Alena Korobko '21: When I was a freshman, a senior on the team invited me to a football game.
What is the best pre-competition snack?
Catherine Mader '21: A secret drink called ZipFizz
Alena Korobko '21: Any fruit 
What is the most embarrassing moment of your Lakeside sports career?
Catherine Mader '21:  I remember tryouts freshman year, a ball was coming at me and I froze, and caught the ball, in the middle of a game. All the upperclassmen were very confused as to why I had stopped playing. 
Alena Korobko '21: My first game ever as a freshman I tripped on my own shoe and fell when i went for my approach to hit the ball.
Do you listen to music while practicing? If so, what is your go-to song?
Catherine Mader '21: We do listen to music sometimes during practice. Our go-to is definitely level up or Sun models by ODEZA  
Alena Korobko '21: We sometimes listen to music during practice. It's always different music but we make sure it's upbeat and hype. 
Gatorade or Powerade?
Catherine Mader '21: Gatorade for sure
Alena Korobko '21: Gatorade 
How did you get into your sport?
Catherine Mader '21: I remember my sister played it and I always thought she was the coolest so I joined the middle school team.
Alena Korobko '21: I was at an athletic camp and one day we played beach volleyball for an hour. I just fell in love with the sport and played it ever since. 
Best moment of the season?
Catherine Mader '21: When we taught Jeff (our coach) all of the cool new TikTok words and sayings  that he now uses on the daily
Alena Korobko: Beating Bellevue to go to state. 
Leave a Comment