Activism on the Runway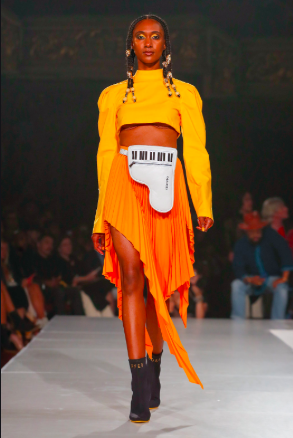 New York. Always the most innovative, groundbreaking, and forward-thinking of the "Big Four" fashion weeks (which includes those in Paris, Milan, and London), and birthed by the ideas of the youngest, boldest designers. This season marked the first shows of the 2020 decade, and the vision for the new decade was clear: activism. Whether it was social, political, or environmental, activism as a vogue represented a seismic change in public awareness (and social responsibility for action!) in the design world.
We saw a focus on sexuality as a choice, with uber-short shorts trending right next to long, slouchy tailoring. There was an emphasis on the fit around the body, a modernity that provided freedom and space to breathe, literally and metaphorically. Rihanna's exceptional Savage x Fenty show was a performance-filled extravaganza focusing on body confidence, inclusivity, and freedom of sexuality, breaking down the restraints of the often narrow-minded lingerie industry. Bold, clean-cut, and practical clothes were a focus at Michael Kors and Proenza Schouler, where the working woman was the muse and the effect was tailored excellence. The woman with options is the woman with power.
  Designers also explored their personal identities. Pyer Moss' show was a brilliant celebration of blackness, focusing on lesser-known queer black artist Sister Rosetta Tharpe, widely regarded as the godmother of rock and roll. Designer Kerby Jean-Raymond explored Tharpe's story, as well as many other black songstresses', and how sanctuary, like in churches, serve the black and queer communities in tumultuous times. Area's show focused on multiculturalism as well, with many stylings alluding to inclusion and diversity, most notably a white suit dripping with chains in various languages, and Prabal Gurung, a Nepalese immigrant himself, explored what it meant to be an American through a venture through American fashion history (Prabal, never one to shy away from confrontation, had a finale of sashes printed with the question "Who gets to be an American?"). There was diverse casting in race and gender expression, as well as co-ed runways and designers blurring between masculine and feminine. However, body diversity was still lacking outside of shows like Savage x Fenty. 
Environmental activism was present many runways, as well, a major issue in an industry that contributes about 12% to global carbon emissions—more than international flights and maritime shipping, according to a report by the Ellen MacArthur Foundation. Many brands are turning to eco-friendly fabrics and design intending that their clothes be cherished and worn time and again, thus creating art, not waste. Brands also worked toward conscious design and sustainability. Fashion was made not for trendiness or hype, but as a mindful expression of the moment that lasts beyond the moment.
Designers must look into the essence of the moment and make it into something not pretty, but beautiful and pioneering. Since activism and such displays of activism are in vogue, particularly at this watershed moment in American culture (with escalating issues such as immigration, racial violence, and climate change), this year's fashion is an optimistic sign for our future. One can only hope that this season's messages will bring about change.