A Step Up From Popsicle Sticks: Lakesiders in Summer Art
Summer — a time of sun, relaxation and… art? No, not macaroni-and-popsicle-stick summer camp crafts. Each year, swaths of Lakeside students take part in advanced summer arts programs, deepening their knowledge of drama, visual arts, and music. Summer is the optimal time to hone these skills: no school means more time to devote to making and learning about art. In addition, participating in arts programs outside of Lakeside allows artists to work with new people, helping them gain connections and diversifying their work. With that in mind, I talked to a few students who devoted all, most, or part of their summers to the arts.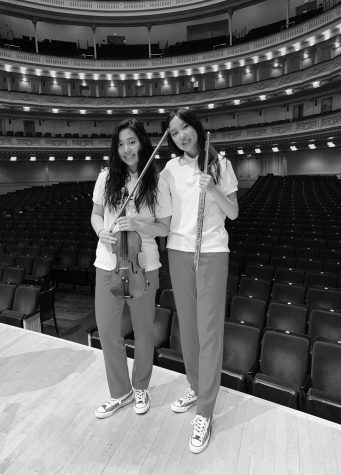 Bianca M. '22 spent the tail end of June and part of July with Young Americans Theater Company (YATC), in which she acted in Nothing is the End of the World (Except the End of the World), a play concerning the introduction — filmed on reality TV — of humanoid AIs into the student body of a high school. Bianca played Emma, a 17-year-old aspiring musician. She learned about YATC through a Lakeside alum: "I knew Nate Kelderman from Lakeside, and I knew he was a part of [YATC], so I followed [YATC] on Instagram and met more people who had done it and decided to audition." Bianca described the creative process behind her rehearsals, detailing how it was different from previous productions she'd acted in: This play was performed in-the-round, meaning the audience surrounds the stage; previously, she had only performed proscenium, in which the actors present directly to the audience. Her new style of performing required her to be more aware of sight lines and what the audience can or cannot see. "Learning how to work in that type of space, I learned how to add more depth to a character; we definitely did more character work than I've done in past shows," she added. "It was really cool to see who this character was and what their relationships were and what baggage they had prior to the events of the show." 
As an ongoing project, Anya S. '21 and Kat L. '21 have produced their own arts collective dedicated to supporting students of color pursuing the arts. As stated on their website, The Colorization Collective's goal is to provide teen artists of color with a supportive community in order for them to feel confident pursuing the arts. "I think many teens of color drop out of the arts because they don't feel accepted, don't feel like there are others like them, or don't feel that they are good enough," said Anya. "This webseries will hopefully change some of that thinking." The video webseries — a major part of the project — showcases the diversity of both teen artists and the art they produce; the first video featured J'Dyn P. '19 in a discussion about how her art and race connect and interact. "We posted our first video in late June, and our next one will probably be up by the time this goes to print. Hopefully, we can do one every month," explained Anya. As for the future, Anya says that the Colorization Collective is working on "getting off the ground and building up a community of youth artists. I think right now we're getting a lot of adult viewers, which is great, but I'm excited to share this with schools and art classes so that teens can check out what we're doing." Plans for the future include a multimedia showcase and workshops in several disciplines scheduled for spring 2020. You can visit the organization online at colorizationcollective.org. 
Some students, such as Minsoo K. '20, even traveled for their summer arts experiences. For three weeks this summer, Minsoo played in the National Youth Orchestra, a program run by Carnegie Hall's Weill Music Institute. The program is tuition-free, with the organization covering hotel fees, performance clothes, travel fees, and even tourist activities for each musician. "It almost felt like a prize I earned for being there. It was also really rewarding because everyone there is there because they deserve to be. No one's not there because they couldn't afford it, which means everyone got in solely on merit and not on socioeconomic status. That was a powerful thing National Youth Orchestra showed me," said Minsoo. National Youth Orchestra is a rigorous program, with the musicians rehearsing for hours each day, which is exactly what Minsoo wanted in a summer arts opportunity. "I ended up choosing NYO because it offered the intensity and the opportunity that I have been looking for my entire high school music career. It allowed me to collaborate with other youth musicians that were quite serious about music, some even more serious than me, who are really thinking of going pre-professional. Yes, you're supposed to have fun, but you also have rehearsal six-eight hours a day," she explained. "I play in the Lakeside orchestra, and yes, I've learned so much through it, but NYO really extended that experience. I gained a lot of personal growth, professional growth, growth in many different aspects of myself that I am really hoping to apply back home in Seattle with Seattle Youth Symphony and Lakeside orchestra."
The students featured here are only a few of the many, many Lakesiders who participated in arts programs this summer. Not only do these students enrich their own learning, their experiences benefit their classmates: the skills and diversity in training they bring to the Lakeside arts scene help their fellow classmates grow as artists and make Lakeside's galleries, showcases, and performances all the better.