Twelve-year-olds rarely make it onto national television, but Lakeside Middle School's own Nathan E. '29 is an exception. This year, Nathan's team made it to the Little League World Series, an internationally televised event and the biggest youth baseball tournament in the world. Nathan humbly describes this tournament, where future Major League Baseball stars from every continent convene to play in front of tens of thousands, as "just a bunch of 12-year-olds who love baseball." This experience is something that he'll never forget, and not just because it was broadcast on ESPN. It was the team's bond that made the game he loved more than just sport. 
When he was just six, Nathan started baseball with his parents and grandma, playing Tee-ball for fun. When he turned 10, though, he developed bigger aspirations for his game,  practicing playing catcher with his dad in the basement almost every night. His commitment to late night practices soon turned into a call-up for the all-star team. While most would be satisfied with just a roster spot, Nathan was still hungry. He knew that he had to improve his hitting and catching skills in order for his team to have a chance to go to the Little League World Series, a childhood dream of Nathan's.  
His hard work was rewarded: The Washington All-Star Team would not only progress past challenging district and state tournaments, but also go on to win the Northwest regional tournament. Finally, Nathan made it to the  Little League World Series, where his team played under the title "Northwest Region." 
The journey that had been his dream for years, however, quickly turned into a nightmare. The day of his flight to Pennsylvania, Nathan woke up at two in the morning and threw up. Even worse, the sickness would eventually go around the team by the time they arrived. As the tournament progressed, a sick Nathan, who hadn't seen his family for a week and was on the verge of the biggest baseball opportunity of his career, says he stuck to his motto: Focus on now, just this pitch. 
I just think my dad is throwing me these wiffle balls from four feet… [You] have to play the same baseball you've been playing forever.
Nathan remembers one high-pressure moment from the quarterfinal game against Texas better than any other. Up to this point, Northwest Region had coasted along in the regional and early rounds of the tournament, winning the five games they had played by a mind-boggling combined score of 48–3. But now, playing in front of 15,000 people and hundreds of thousands more watching on ESPN, the game stood at a 0–0 standstill after the sixth and final regular inning. In the first extra inning, Northwest Region's pitcher walked three straight batters, giving Texas a great chance to take the lead. After a pitching change, Nathan caught three straight strikeouts, helping Northwest miraculously escape alive to fight another inning. "I've been practicing that a lot, and I haven't always been the best at it," he says, so for him to make plays like that on this stage was one of the proudest moments of his life. Throughout the wild game, Nathan remembers imagining himself in his basement with his dad during the most stressful moments: "I just think my dad is throwing me these wiffle balls from four feet," he says — "[You] have to play the same baseball you've been playing forever."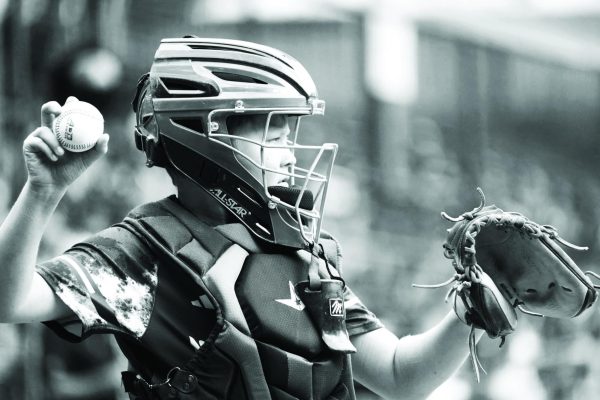 Unfortunately, Northwest would lose the game in the next inning and exit the tournament after a loss to the West Region team soon after. Nathan wishes he could have gone all the way, but he lingers more on the positive experiences he had while in Pennsylvania. He remembers the common ground each 12-year-old at the tournament shared, and hanging out with the West Region team even after losing to them. 
Thinking past this experience, Nathan is beyond excited to represent the Lions on the diamond in the footsteps of his favorite player, MLB All-Star Corbin Carroll '19. With a potential star catcher added to an already strong program, it's clear that the future of Lakeside baseball is bright.