Ecuador:
6:30 a.m.
Everyone is scrambling through the house [because] we're late for church. Misael yells, "Justin!" because he woke up late. I see one, then two, then three then four pairs of feet scurry past my curtain door. I spring up and get dressed; a minute later, I'm out the door. 
6:45 a.m.
We arrive at church and take our seats. We're seated at the very back; in front of us, 10 rows filled with other community members. I notice some of our group members.
9:30 a.m.
Mateo, Ozzie, and I arrive at the field to prepare for a day of despedidas. The field is covered in a thin layer of dew, the brisk air gently blowing past my face, the sun giving me enough warmth to wear shorts. We split off into small groups to grab the supplies. Kate, Whitney and I grab game supplies from Whitney's house. We all sit in a small circle on the corner of the field, patiently waiting for the community to arrive. 
9:00 a.m.
Everyone is supposed to arrive, but of course we can't forget it was supposed to start at
9:00 a.m., Ecuadorian time.
11:00 a.m.
We make our way to the school where the community has finally gathered. A ring of chairs lay in the middle of the nearly built patio. We get ready to play musical chairs but after the first round there are five extra chairs. Everyone makes their way through the rounds, slowly dancing around the gradually decreasing chairs. The final round is Mateo vs Ella and they circle for minutes before the music abruptly stops — Mateo sits down, but Ella yanks the chair away.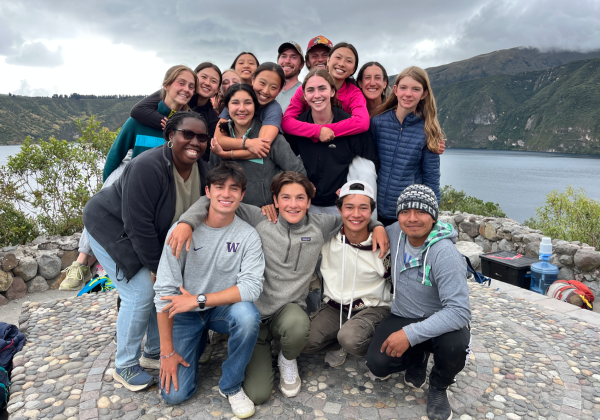 Eventually, Mateo manages to hold on and  finds his way onto the chair. (He definitely cheated.) We quickly transitioned into the Macarena which I led. I stood, facing the entire community, trying to explain the 12 steps to it. Some of the community members catch on quickly while some others need a bit more help. After I showed them the steps a few more times, we dove right into the song and everyone seemed to enjoy it. We once again transition into Bachata. The whole community partnered up to dance and we all danced what we knew of it. The wind had calmed down, and the sun was still beating down.
12:15 p.m.
We start a community-wide soccer game. There were at least 20 people on each team. We started off strong, up 3–1, but I was already exhausted. I thought that after a month I would be more accustomed to the altitude, I was oh-so wrong. Fast forward 30 minutes and a whole lot of running, we're down 3–7, and the game is over. 
1:00 p.m.
We make our way back up to the comedor for a pambamesa. We all packed into the comeder and sat down on the benches against the wall. They filled the table with rice, potatoes, mote, eggs, blood, noodles, and pork. They handed us plates, and we dug in. The overlapping chatter filled the room, the sun rays gently reaching all the corners of the room through the slightly tinted windows on the far wall. After we eat, we say our despedidas to the community. Some people say some kind words and then we all parted to go to our homes. We passed time with our family until it was time to go. 
4:00 p.m.
We are all standing outside the house taking in all of Cambugan. All I could think about was our family and how I wouldn't see them again forever, or for a long time. As the bus arrived, I tried to put a smile on my face to mask everything I was feeling. Eventually I couldn't and I gave all of our family a tight hug before entering the bus. It was now time for us to return home, even though I knew I already was. 
Ashta kashkaman, Cambugan
Costa Rica: 
This morning I was greeted by the sound of pouring rain ricocheting off the roof of my homestay house. I started off the day by eating a breakfast of eggs, rice, and carrot soup with my host family (Kenneth, Katia, Yeimi, and Brayan). After playing an intense game of peek-a-boo with Brayan (1 year old), I departed with my host father, Kenneth, and my neighbor, Jack, to La Cocina.
The group began the day by reflecting on our past two homestay days and engaging in a storytelling activity. At 9:00 a.m., we started our service projects for the day of carrying stones from the Yorkin river to La Cocina and weeding an overgrown trail. The morning service went by quickly with students discussing various topics. While carrying our sacks filled with stones, Josie, Isabel, and I were sharing humorous stories from our time with our host families in the prior days. In front of us, Lilian and Sophia seemed to not be exhausted at all, chatting and laughing energetically!
After completing our morning service, the group ate a lunch of smoked chicken, banana, rice, and yuka. The meal was served in a carefully folded banana leaf to form a bowl. Post lunch, we engaged in a discussion about the difference between equity and equality, specifically in the setting of the Bri Bri community. Kathrine and Sephina mentioned relevant points about the meaning of personal fulfillment and wealth in this environment. 
In the afternoon, the group went to Casa Conica, a sacred meeting structure for the Bri Bri community where rituals and certain cultural practices are held. We sat around a fire while Rolando explained the role of nature as well as the afterlife in Bri Bri culture.
Anjali asked a question that prompted an informative conversation about the gender roles ingrained in Bri Bri culture. We also learned about the sacred numbers four and eight, with four "worlds" above and below the ground where members of the community are sent by the goddess Sibou in the afterlife depending on the decisions they make during their lives. 
We arrived back to La Cocina around 3:00 p.m. and ate refreshments of melon, mango, yuka bread, and fresca limon. The group followed up on some logistical plans for our final days in the community before heading back to our homestays for the night. When walking back, I noticed Andrew and his host brother Roycito chatting and laughing on the pathway ahead!
I spent most of the night with my host family, cooking, talking, and listening to reggae music. Almost every night I cook in the kitchen with my host family, learning family recipes and hearing stories. Cooking has been one of my favorite ways to connect with my host family and learn more about Bri Bri culture through food. Tonight we cooked patacones (fried plantains smashed into a pancake shape) and a vegetable stew with Yuka. With every meal my family also gives me a drink, usually "chocolate," a hot drink made from sacred cacao that can only be prepared by the women in the community. Later in the night, Olivia joined me at my homestay and we talked with my host families relatives while my host mother, Katia, braided our hair. Most families in the community live next to their siblings and immediate family, so oftentimes families will congregate at one house for dinner to connect and chat.
At around 7:30 p.m., Lilian and I went to Marcos' homestay to seek advice on a question. Since most families in the community do not have electricity, most Bri Bri people wake up and go to bed with the sun; therefore, when we arrived at the home, it was very dark and late. However, all five of the members of the family (three generations) woke up and came to see if they could help. This experience speaks to the endless support and kindness of the Bri Bri community. Everyone in the community genuinely cares about each other and will aid each other no matter the time or situation.
Finally, around 8:30 p.m., I headed to bed. Every night I journal and read, and it has been grounding to have this consistent routine. And every night before I sleep, my host sister Yeimi (6 years old) always says "hasta mañana, Lucy" from the room next door.
– Lucy C. '25
French Polynesia: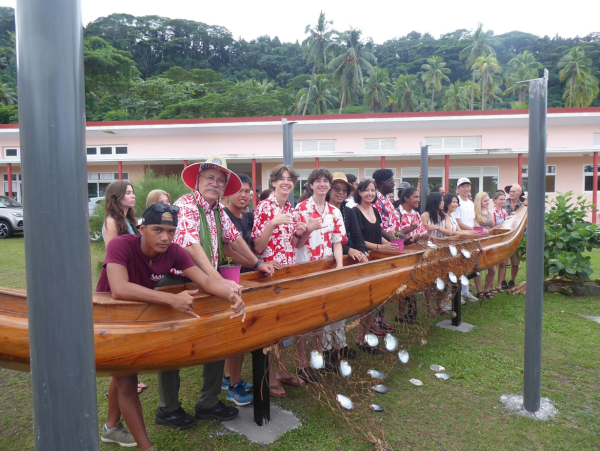 Today was our second to last day in Puohine, so we spent the day on a small island, also known as a motu. Our day started early, as we needed to take a bus to the boat that would take us to the motu. Many of our host families joined us on that bus, and the boat had to take multiple trips back and forth to bring everyone to the island. While one of the main goals for the day was to spend time with our families, another goal was also to enjoy the beach. I completed these goals by spending a lot of time in the water with my friends from Puohine. However, not everyone stayed in the water and other popular activities included napping on the beach or taking a walk down the long stretch of beach we were on. Since this trip is ending, I felt that this day was needed to connect and rest with our host families a little more before we leave.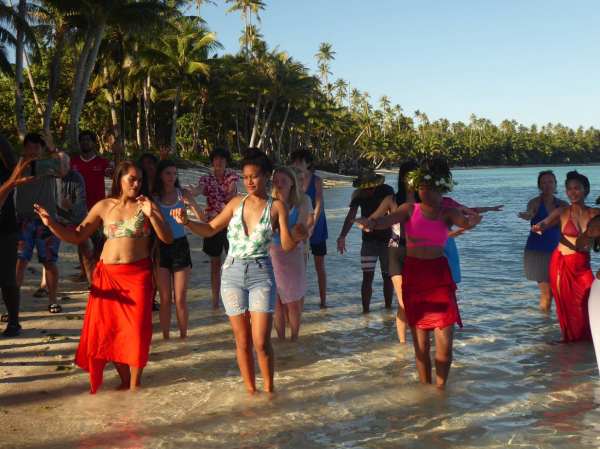 This was a good way to start winding down from our month-long trip in French Polynesia, and tomorrow we will have the afternoon free to spend more time with our host families before flying back to Seattle the next day. I think most of us are feeling the end of the trip will be bitter-sweet since we have created very close relationships with everyone in the community. To end this blog, I know I will miss my host family along with the friends I made here when I leave, but due to the service we did, we have left our mark in Puohine and we will stay connected in that way. 
– Sam S. '24