What constitutes a musical? While its dictionary definition is broad, most of us have a specific set of ideas about what a musical should be. We expect it to be over two hours, we expect there to be a certain number of characters, we expect those characters to feel detached from the audience, and we even expect an intermission. While these characteristics aren't the reason why we enjoy musicals, they tend to be the norm in the musicals we see. 
When asked their favorite musical in the Tatler Poll, a majority of respondents indicated musicals that adhere to these conventional standards. Musicals like Les Misérables, Cats, Wicked, and Hamilton were some of the most common responses (and, while Hamilton might not be a traditional musical, it still adheres to most conventional standards). Don't get me wrong –  I'm a fan of all these musicals, but, after seeing Six at the Paramount this summer, I fell in love with the non-traditional musical. (mas)
Only 31% of respondents in the Tatler poll indicated that they had seen Six, so if you too are unfamiliar with the show, here is a bit of context. The musical features the titular six ex-wives of King Henry VIII — Catherine of Aragon, Anne Boleyn, Jane Seymour, Anne of Cleves, Catherine Howard, and Catherine Parr — and their formation of a pop band. They decide that the leader of the band should be whoever was treated the worst by King Henry, and each of them gets one song to describe their experiences. While the plot is a little more nuanced, this is the rough structure of the musical.
The most apparent non-traditional element of Six is its all-female cast. In fact, this is the only theater production I have ever seen with one. This helped the six different characters reclaim their story and share their roles in history as individuals, not just within the context of King Henry VIII — a ruler who was known for his horrible treatment of women. Often in theater and other forms of media, women's roles are minimized, so it was refreshing to see a musical like this.
"
Often in theater and other forms of media, women's roles are minimized, so it was refreshing to see a musical like this.
As previously mentioned, there are only six characters. Now this might sound a bit small-scale, but by not having any side characters, each character gets more time on stage, which allows their personalities to fully develop. This leads to a more satisfying experience for the audience because we leave the show feeling like we truly know each character. Additionally, the set is also quite simple. There are no set changes during the musical, which focuses the audience's attention entirely on the characters.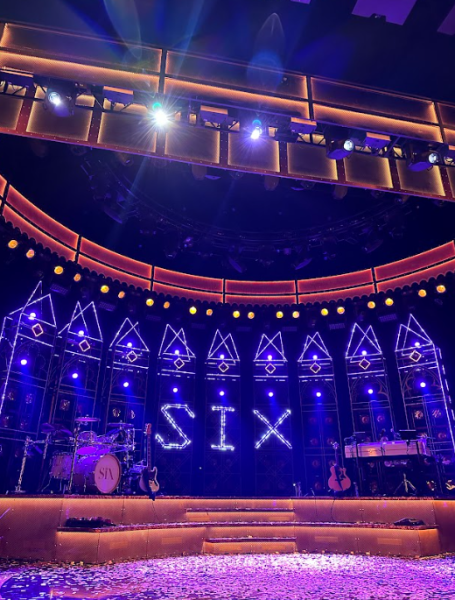 Even though it never changes, the set is by no means boring. Instead of using a backdrop or realistic structures as the set, there are nine vertical light panels that brightly light up in a myriad of colors throughout the show, almost creating a "concert vibe" rather than the expected "theater vibe." Additionally, these lights allow for some pretty creative story elements to take place, especially when used in conjunction with sound. One example that stands out is when the characters use this setup to simulate a dating app during the song "Haus of Holbein." The light formed a rectangle which highlights one character standing in front of it (symbolizing a phone screen and profile picture respectively). The other characters then swipe either left or right, resulting in the rectangle turning red accompanied by a buzzer noise, or the rectangle turning green alongside a dinging noise. Using lighting and sound in such a creative way helps communicate the songs' messages clearly, as well as giving it a fun modern touch.
"
As someone whose attention span has been completely ruined by TikTok, I thought that this was the perfect length for a musical.
Another non-traditional aspect that I love from Six is that it is an incredibly short musical. Most musicals are around two and a half hours, including a 15 minute intermission, but Six runs at just 80 minutes with no intermission. As someone whose attention span has been completely ruined by TikTok, I think that this is the perfect length for a musical.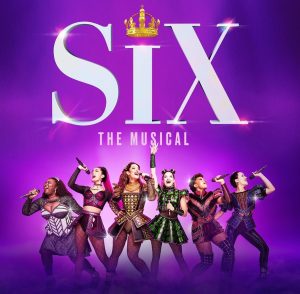 Despite its length, Six is incredibly engaging, and one of the primary reasons for this was that the characters constantly broke the fourth wall. As a result, the audience feels that they are a part of the show, leading to the most reactive crowd I had ever encountered during any musical (everyone cheered especially loudly during "Don't Lose Ur Head" and "Get Down"). Additionally, Six does not use an orchestra; instead, the musicians are on stage — in costume — playing the keyboard, drums, and guitar. While most musicals make use of a traditional pit orchestra, Six visibly embraces the music that is needed for the show and makes it a part of the spectacle.
Overall, I absolutely loved Six. It has a great feminist message alongside many unique elements, and I would definitely recommend seeing it if you have the opportunity to. Also, seeing it made me further appreciate all the innovation and creativity that is present in theater and made me excited to see more unique shows like this in the future!