Celebrating Community with Cherry Blossoms
Walk into the University District of the University of Washington any time in late March to early April, and you'll be greeted by blasts of reds, pinks, and whites, celebrating the revival of the UW's famous Yoshino cherry trees just a few blocks east. Their stunning springtime blooms reel in thousands of visitors and have inspired various celebrations across the University and its neighborhoods. 
One such celebration, recently having wrapped up its second year, is the UDistrict's Cherry Blossom Festival.
Running from March 24th to April 2nd, participating businesses may offer cherry and blossom-themed specials, like drinks, teas, cocktails or even meals. This year they also held a friendly competition among establishments for best cherry-blossom themed storefront. First debuted in 2022 to much fanfare, it's a welcome novelty for the embattled UDistrict and in many ways a long time coming.
Despite the cherry trees having been around since 1962, since which time they've become established as an iconic sign of Seattle spring, the timing is conspicuous. It's no secret that the COVID-19 pandemic was, bluntly speaking, a difficult time for businesses and communities such as the UDistrict.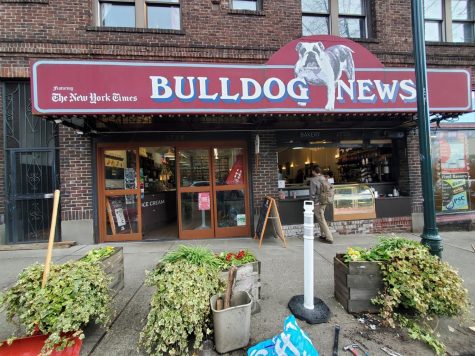 One such business that is recovering from these times is Bulldog News, a well-known business since its establishment in 1982, with an extensive magazine collection, open-mic events, and cafe. "It definitely drove more business," said Beth Mountsier, manager of Bulldog News' world-famous magazine wall. Ms. Mountsier came to the UW for graduate school in 1983, and has noticed how the number of people coming to see the cherry blossoms has increased over this past decade. "It's nice that the [University District Partnership] made this connection, 'while you're here there are some great businesses on the Ave, come over and check them out!'" It also helps maintain some competition with University Village; "some 15-20 years ago [the UDistrict] lost a lot of business to University Village, which is privately controlled. It's an exciting time in the UDistrict now."
Bulldog News participated in the festivities with cherry-almond scones drizzled with pink frosting and cherry flavored Italian sodas. I had a scone for myself, then regretted not eating it with a drink as it was, indeed, a scone. Still, it was hard to beat the cool ambiance of this historic establishment, even when the rain started, with hints of pink coming in from the faux-petal decorations around the storefront. It was a neat reminder that I was only steps away from the real thing out on the campus.
For newer businesses, too, the Cherry Blossom Festival is a good change of pace and a neat injection of business.
IJ Sushi Burrito is one such establishment, a third-year part of a chain. Theirs was the first I visited, getting their two signature Sushi burritos — both excellent, I'd add; I recommend — and noting their decor — simple but tasteful, cherry blossoms fittingly strung up around their sign as if it were always that way.
"I just moved into this store about three weeks ago," said Turah Wirya, owner of this branch of IJ Sushi Burrito, "[but] I think it went pretty well … The volume of people coming to my store is crazy." With just two people working the store, they had to "fight for them," but in the end, it was an incredible series of days. "I think [the Cherry Blossom Festival] worked for us … I hope I can join the festival next year, since this year I was just working!"
The cherry blossom special was simple — a flat discount on side dishes — but appreciated, as was the meal, as the next stop became plainly obvious by the line spilling out the door just under the restaurant: Boba Up, promulgated as the first self-serve bubble tea in the Pacific Northwest. I could tell they really leaned into the spirit of the festival: not only did they have a festival-exclusive drink, but the front was decked out in intricate decorations and illustrations. 
Maya Lu, vice president of Boba Up, spoke highly of the festival, embracing how "the cherry blossoms have become a kind of tradition, …We get together and do something special to celebrate." One caveat she noted was the weather: the blooms this year were late and muted by the unusually cold April. "This year we were super busy, but 300-400 less than last year," — a drop she associated with the sub-par weather — "but still, thousands and thousands of people came through Boba Up." It helps that the spirit of the situation, if nothing else, serves to make "everyone happy, the customers happy, it's really fun!"
As I walked away from Boba Up, I took a sip of the Pink Blossom Heart, a pink novelty drink made of strawberry (the "cherry" in "cherry blossom" notwithstanding), mango, and lychee. It's a saccharine, almost sickly sweet that rubs against the teeth, ranging closer to an iced Jolly Rancher than their specialty taro milk tea, but I couldn't help but sip it down. It's a nice sunny day, after all, and the second to last day before the festival ends, so why not indulge myself a little?
My take? I think it's good fun — another little sprinkling of sweet pink frosting atop the lovely, lively neighborhood of Seattle. With some recent development finishing its final touches, and a new Light Rail station bound to open soon as well, the Cherry Blossom Festival only promises to become more exciting.
If you're in the area next year, pop in for a quick bite, meal, or drink. Have some fun, eat something good, and watch the flowers bloom.
Leave a Comment