Chasing Glory: A Senior Assassin Saga
It's that time of year again: Kazoo sales are spiking, allegiances are forged and others wrecked, and a sense of perpetual paranoia looms over seniors when they venture beyond Lakeside's limits. Senior assassin — a long standing, student-run, "Hunger Games"-esque tradition — is back. 
The rules are simple, and really just common sense: Each contestant is assigned another senior whom they must tap with a spoon or hit with a hairband, off campus, in order to eliminate them and secure their own place in the next round — unless, of course, their target is actively playing a kazoo. Certain events and sports practices are designated safe zones by Mica R. '23, the game runner and administrator of the official @centervilleassassin2023 Instagram account, but other than that, date nights, Mother's Day plans, dentist appointments — it's all fair game. (Breaking into private property without permission, however, is prohibited.) With a cash prize and pride on the line, seniors have devised elaborate plots and betrayals, pulling upon networks of informants, each with competing interests, in order to tap their classmate with a spoon. While there have been countless cunning kills, here are three of the most adrenaline-pumping.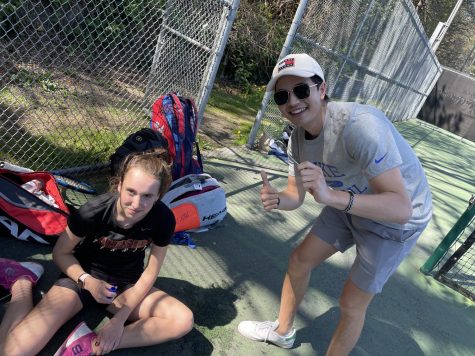 Tennis Menace
The cream-colored hat and $15 sunglasses made to look designer should work. It's not quite a disguise, but it will delay Megan K. '23 from recognizing me, if just for a second or two. It still seems too good to be true, that the tennis team has a match at Lower Woodland Tennis Courts, mere blocks from my house, the courts at which I learned to hit a backhand and take a split step. As I take the familiar stroll to Green Lake, past the Pitch 'n Putt and to the parking lot of the courts, I feel strangely out of breath.  
Nervy, I pace around the lot, trying to make out Megan's location during warmups. I don't have to wait long. Megan walks off the courts with two teammates for a bathroom break, most likely. I jump behind a car. I should wait until her back turns, until she's far from the gates, but some nagging thought tells me maybe she saw me as I dashed to the car, that I better take my chance while I can. Suddenly, I'm running at her, and she recognizes the situation with astonishing speed, eyes widening. As I chase her back onto the court, where she left her kazoo, I think I might've blown my chance. But this is my court, my terrain. I hit a second burst of speed, and, with gazelle-like grace and agility, spin around Megan's teammate attempting to block me. Megan rummages in her bag for her kazoo, and readies to play it, but I use my aforementioned gazelle-like athleticism to leap forward and tap her arm with my grapefruit spoon. 
I let out a guttural "Yes!" and feel soft rays of light touch my face. Birds sing. Around the world, children join hands and sing folk songs to celebrate my victory. I resist the label of "hero" whenever people stop me on the street and say, "Stellan, you've inspired me to live my best life — you're truly a symbol of courage for all, not to mention good-looking," or "We'd like to name our new-born son after you; we hope he will have half your humility and poise." At the end of the day, I still think of myself as just a normal guy. I changed the game, but I won't let the game change me. (I have since been eliminated due to factors outside my control, but my accomplishments still stand.) 
Field Trips Can Wait
Right hand on a slender wooden cooking spoon, Eli E. '23 grips the wheel, hard. He stares ahead at the gray RAV4 ahead of him, repeating its license plate number in his head until the first three letters are etched in his memory. In the passenger seat, Michelle Y. '23, the one who signed Eli up for assassin in the first place, texts Emily Chu, their Asian American Studies teacher, to tell her that they'll meet her directly in the International District for their field trip instead of taking the bus with the rest of the class —  something's come up. 2010s pop underscores jittery conversation — "Do you think she sees us?" and "What do we do when we get there?" Eli drives ahead. 
Just 10 minutes earlier, the mission seemed like a bust. With no classes before their field trip, Eli and Michelle took a trip to the house of Stella S. '23 with the long-shot hope that she'd open the garage kazoo-less. Potential hiding spots seemed few, and after a trip to the alley by the side of her house, they agreed: This is pointless. But just as they began the defeated stroll back to Eli's Volkswagen, they heard the mechanical whir of a garage door and saw a gray RAV4 pulling out. They rushed to Eli's car, and the mission was on. 
They've stayed behind her the entire drive, through Bryant and Viewridge; Eli rests his head in his hands at stoplights to assure Stella doesn't spot them. "It was like we were in a movie," says Eli. After 10 minutes, a red light separates them from Stella's car, but Eli doesn't panic; he sees her pull into a parking lot next to Husky Stadium and knows the heavy lifting is done. 
Eli parks and watches Stella take the elevator up into the UW Physical Therapy Clinic, tall steel offices built into the side of the stadium. Eli rides the elevator and feels the tingle of the culmination of hours of sleuth work and anticipation. As the doors open, Eli and Michelle are met with a wall, behind which is the waiting room. Eli peeks around, and there she is, in a Lakeside 23niors sweatshirt. "I don't even know what kind of emotion it was — it was just the fear of god in her eyes," Eli says of Stella's reaction. After a brief scurry around the waiting room, Stella dashes for the elevator, blowing her kazoo, and frantically jams the "close door" button, but the doors move at a glacial pace. At last, Eli holds his spoon on her until her breath sputters and gives out, and Stella is eliminated. The worst part for Stella: She has to return to the office and apologize for running in circles while playing a kazoo — about as unpleasant a sound as it gets. 
A fluttery feeling stays with Eli for the rest of the day as he cracks crab legs and sips soup during his field trip to a Chinese restaurant. "Glory," Eli says. That's what compels him more than the fun (a word that starts to sound childish once you've faced a classmate brandishing a spoon), the adrenaline, or the money. It's the feeling when your spoon nears their shoulder and you know you've bested them; it's viewing their moment of realization. Glory — that's what it's about.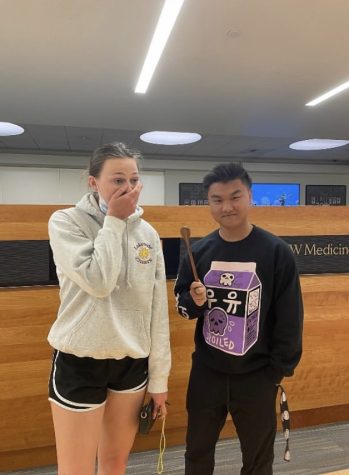 Betrayals and Báhn Mìs 
Members of the swim team munch on báhn mìs and Thai tea around her, but Michelle doesn't eat. She sits across from Andrew C. '23 and faces the entrance at iSandwich so she can survey the cars coming in and out through the narrow lot, waiting for Grace B. '23. After Grace let it slip that she was targeting Andrew, Michelle devised a devious double-crossing. "I'll help you!" Michelle said eagerly. Indeed, Michelle has already garnered the reputation as someone who can get you a kill, having already assisted in the eliminations of Stella and Casey M. '23. Instead, she plans to bait Grace to iSandwich and eliminate her before she can reach Andrew. This will be a delicate maneuver, but Michelle is confident she can pull it off. 
She sees a car pull in and notices Grace has come with a friend: Devon C. '23. But there's no time to think about that; Michelle lunges towards the door, spoon in hand, kazoo in pocket. Something's off, though. Grace comes in playing her kazoo full force, and before Michelle can reach her, Devon has tapped her with her spoon. A mixture of disappointment, nerves and surprise courses through Michelle, but before she has time to process, she sees Andrew dart out with his kazoo, fleeing Grace. As Andrew races down the sweltering Aurora sidewalk towards Pho Tic Tac, all that runs through Michelle's mind is helping  him, and, perhaps more importantly, denying Grace her kill. She races to her car and picks up Andrew. Though she can see Grace's car follow her on the drive back to Lakeside, Michelle delivers Andrew to safety. While the kill is devastating, Michelle doesn't hold hard feelings. "It's all part of the game," she acknowledges. That's assassin: Snakes in the grass, and other snake-eating snakes in deeper grass. 
Leave a Comment
About the Contributor
Stellan M. '23, Editor in Chief
Don't let the name fool you; Stellan Will do the Max, which is also his name (and is preceded by that of his brother). He's a Mountain Man, he's a Lakeside...