Petit Pierre's Parisian Pastries Don't Disappoint (Mostly)
Located in the heart of the quaint Magnolia Village, surrounded by local shops, there's a French bakery called Petit Pierre. The exterior of the bakery has two large windows, drawing customers in with a view of an assortment of pastries and a model of the Eiffel Tower. Right outside Petit Pierre, there are two tables with bright orange chairs, which, during spring and summer months, are filled with people enjoying delicious food and drinks. The interior configuration allows customers to walk along a lengthy and narrow display case to admire all of the bakery's pastry, lunch, and drink options. 
When asked in the Tatler Poll if they were familiar with Petit Pierre, over 89% of respondents said they were not, meaning I can now confidently call it underground. Additionally, when Lakesiders were asked what their favorite French pastries were, some common responses were croissants, eclairs, and macarons. Given Lakesiders' unfamiliarity with Petit Pierre and their affection for French pastries, I wanted to highlight this secret bakery by trying a variety of French pastries there. 
To start things off, I, of course, had to review the most classic French pastry of all: the croissant. I'm happy to say that it did not disappoint. My first bite exposed countless thin layers of the croissant; it was fluffy, buttery, flaky, and tasted like Paris. My only complaint was that it was a mess to eat, but it was well worth the clean up. I give it an 8/10. 
The chocolate macaron was great as well. The soft shell made biting into the macaron easy, and the shell's softness worked in harmony with its silky ganache (a stark contrast to many other macarons); this perfect combination made the macaron melt in my mouth. My only complaint is that I didn't buy another one, so I give the chocolate macaron a solid 8/10. 
"
My only complaint was that it was a mess to eat (though well worth the clean up), but overall, the croissant was superb and tasted like Paris."
The raspberry macaron looked very similar to the chocolate macaron and tasted even better. The filling had a strong raspberry flavor — sweet, but not cloying. Both the raspberry macaron and chocolate macaron stayed together after a bite, something that many macarons can't do. If I could change one thing about this macaron, I would've made the shell a brighter pink (it was kind of a blah color). Besides the questionable color choice, I had no complaints about the taste of the raspberry macaron, so I give it a 9/10. 
Next up is the chocolate-filled eclair. The luster dust on top of the eclair gave it a magical feeling, and its relatively small size made it easy to eat. Unfortunately, no amount of luster dust could have made eating it anything other than a lackluster experience. The combination of the chocolate icing and chocolate-cream filling was overpowering, and, even though I adore chocolate, the chocolate-cream tasted too eggy and had a subpar chocolate flavor. I would have preferred a vanilla filling which would have been a good way to balance the chocolate icing and the filling without making it too overpowering. The actual choux dough had a perfect texture and was surprisingly flavorful. Eclairs are usually one of my favorite desserts, but this one left me unsatisfied. If I had only tried the eclair, Petit Pierre would have been a big no no from me. The eclair was a petite  fail, and I give it a 5/10. 
After the eclair, I tried the cinnamon roll, and overall it was quite delectable; I happily gobbled it up. The roll itself had a nice light cinnamon flavor and was incredibly soft, and the icing was smooth and had a perfect level of sweetness. Unfortunately, cinnamon rolls need an abundance of icing — something that this one just didn't have. Besides the lack of icing, the cinnamon roll was quite tasty and I give it a 7/10. 
Eager from the incredible flavor of Petit Pierre's principal croissant, I tried its chocolate counterpart, wondering if it could possibly top the already fantastic croissant. It did. And the reason? Chocolate. Everything about the chocolate croissant was just as perfect as the regular croissant, but the added element of chocolate made this pastry truly wonderful. I give it a 9/10.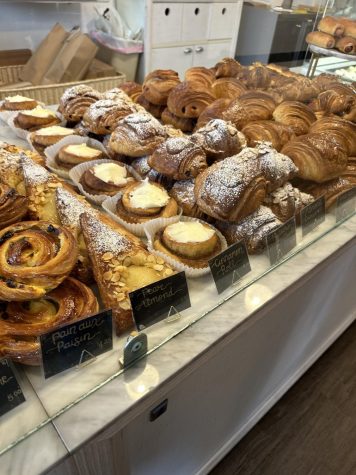 My expectations were high after trying the chocolate croissant;. However, they were quickly dashed after taking a bite into the cinnamon sugar-coated cruffin. Unfortunately, the combination of its unconventional shape and cream filling made it incredibly awkward to eat. The cream inside was way too sweet and its only redeeming quality was that the outside "muffin" part coated in cinnamon sugar tasted solid. The concept was good, and I believe that if the cream was removed (or at least tasted better) the cruffin could be a great dessert. But it wasn't, so for now, I give it a 3/10. 
For the final dessert, I tried a large chocolate chip cookie, which used chocolate chunks instead of typical chocolate chips. The large chunks had a rich-chocolate flavor that gave the cookie a luxurious feel, and its flavor was further enhanced by the sea salt flakes scattered on top of it. This cookie made a classic dessert somehow even better, and for that reason, I would, without a doubt, give it a 10/10. 
I have many fond memories of going to Petit Pierre when I was younger, and I was very happy to see that it is still a spectacular bakery. The atmosphere, both inside and outside, is welcoming and cozy. Their diverse selection of food and drinks means that, no matter what mood you're in, there's always plenty of options to choose from. If you're ever in the area, I definitely recommend you give Petit Pierre a try!
Leave a Comment