Showcasing Student Accomplishments
Starting this month, Tatler is spotlighting Lakesiders' accomplishments. If you participate in competitions, engage in the arts, do a niche sport, are secretly a celebrity, or spend time outside of school doing things that are meaningful to you, let us know! The following mini-interviews with students have been edited for clarity.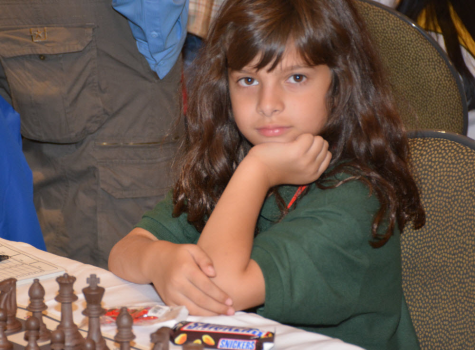 Anjali W. '25, youngest FIDE certified chess coach in the world 
When and where did you train for and become a FIDE licensed chess coach?
In 2015, my brother and I both competed for the Irish national team (we're both Irish citizens) in the World Youth Chess Championships. In order to qualify for the team, we had to compete at a couple tournaments within Ireland. While we were playing at a tournament in Bunratty, my dad signed me up for a course to train to become a FIDE chess coach. It was three full days of courses, followed by a test that you must pass to receive your license. There are different levels of coaching you can pass at; I ended up passing at the level of Developmental Instructor, meaning I can teach beginners and intermediate players.
What was the preparation like?
The preparation was pretty intense, since the course packed in a lot of information within a short period of time. I spent a lot of time studying in between games, as well as discussing different scenarios with my dad. It wasn't necessarily competitive, as there was no limit on the number of people that can pass, but I remember training really hard to make sure I would do well.
What do you love the most about playing and coaching chess?
The community that you get to build. I love the game itself, but nothing can compare to getting to bond with your teammates at tournaments between rounds, meeting people from all over the world by competing against them, and making friends. My favorite thing about coaching is getting to help other kids pursue their passion. It's always incredible to see the spark in their eyes when they begin to play chess. I love getting to see them enjoy themselves through such a wonderful game.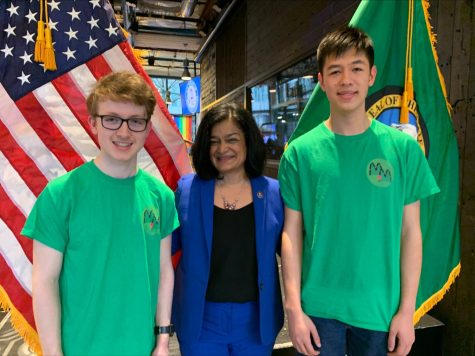 Miles S. '25 & Matthew B. '25, winners of the 2022 Congressional App Challenge
When and where did the competition take place? What was the award for winning?
This competition took place over a six month period, starting in June 2022. About 9000 students, both in middle to high school, participated individually or in teams of two to four. One app was selected for each participating district in the U.S. In addition to developing the app, we made a demonstration video and wrote several essays describing our development process. The prizes for winning were meeting Congresswoman Jayapal at her swearing-in ceremony and in a private meeting, being recognized nationally both online and in the U.S. Capitol building, and receiving an invitation to the House of Code event at Washington D.C. over spring break.
Briefly describe your app and what compelled you to create it.
The app we created is called MetroMate, and it allows users to easily take advantage of Seattle's extensive public transport system. We wanted to create this app because we take the buses every day, and we knew that they are an effective way to address the rise of traffic and carbon emissions in Seattle. Developing the app was a very rewarding experience, but since we procrastinated for the first five months, we had to code almost all of it in a month. Balancing this project and schoolwork was tough, but this experience was a break from school to work on something we both loved. 
What were the biggest challenges you faced?
The biggest challenges we faced all involved programming — we had to use several new techniques that we had no experience working with, like using Android Studio for the first time and creating UI with XML files. The app is currently only available for Android and is not on the Apple App Store, but we hope to change this soon. The months spent working on MetroMate were both relieving (when we made progress) and strenuous (when we did not). While it was sometimes tough to write the code and make sure it all works, the rewarding feeling of creating something that could help others was great.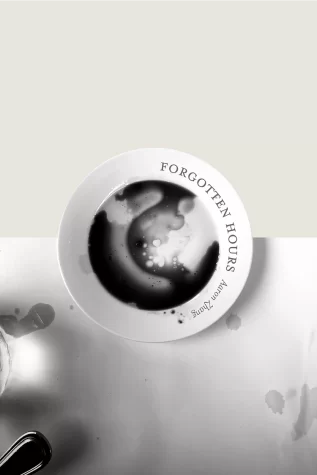 Aaron Z. '23, author of poetry chapbook "Forgotten Hours"
What are the themes and messages of your chapbook? 
The chapbook follows the myth of Endymion, lover of the moon goddess Selene; in some stories, she puts him to sleep to preserve his youth. I wrote the poems during the pandemic, and at the time, I was reading French phenomenologists, Buddhist texts, and Modernist poets, all of whom reflect on consciousness. I was also waking up at four a.m. to draft poems, and that state between sleep and waking led me to connect with Endymion. I thought about his betrayal, being put to sleep by his lover, and his quest to break out of his state — how that parallels the search for knowledge and liberation. Nolan movies and classical epics inspired me to organize the poems to chart Endymion's path through stages of grief, or of waking, or of hell. 
Favorite poem from your collection?
I love the first poem, "Passage"; it's so weird and borrows images, phrases, and gestures from the recent "Dune" movie, Eliot's "Four Quartets," and actual dreams I've had.
What was the publishing process like?
I wrote the collection, sent it to publishers, received an acceptance letter from Gasher Press, and I've been with them since! They consulted me on cover art (it's a photo taken by my sister at Half Moon Bay, ironically), design (I love fonts!), and edits (which I completed a day before the deadline). All in all, the chapbook was finished by the new year. 
What advice would you give to peers who are interested in writing?
I would suggest reading old stuff, reading new stuff, and reading small stuff. So much important writing happens in poems that never see The New Yorker. Also, it's good to know how we got here (and what we now avoid) in order to write where we will go (and what we will embrace). Mostly, it's just living, with a few moments of trying to condense that into line breaks.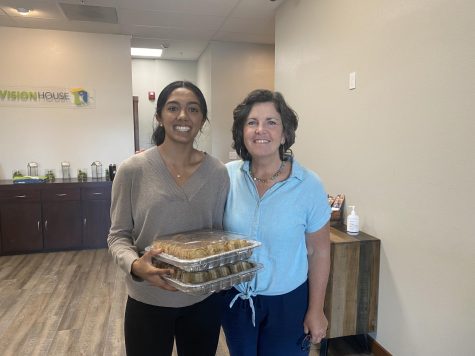 Anbini G. '24, Founder & CEO of Love and Sweet Bakery
What's it like serving as the head of Love and Sweet Bakery?
I directly manage the Seattle chapter as well as oversee our 13 other chapters that span across the United States. For the Seattle chapter, I bake when needed (I make our famous 48-Hour Chocolate Chip Cookies!) and oversee administrative work such as running our club meetings, delegating work, creating fundraising plans, updating our website, and more. My weekly time commitment ranges from two to ten hours, which includes planning and sometimes baking. There is always more time that can be spent on managing Love and Sweet Bakery, but I don't always have that time since I'm still a full-time student!
How did the business begin?
I first started the business in my kitchen during the pandemic (the fall of my freshman year). I would bake orders that I received through my online shop, deliver them, and donate the revenue! When we returned to in-person school, I created a club to expand my team, host fundraisers, and create events. Eventually, we expanded across the United States! 
What has been your biggest challenge?
Managing multiple branches and making executive decisions has been the most challenging. I have definitely leaned on my team members to support me, but I needed to take charge and create a vision and future for the business. 
And your most rewarding experience? 
I'd say it's seeing our work reflected in the community. We stayed in touch with shelters and volunteer coordinators after our donations, and they have updated us on the positive contributions our homemade goodies brought. One of my favorite experiences was donating to Vision House in Renton. We made 100 cookies for their back-to-school event for the children at their shelter; afterwards, the director sent us postcards and pictures showing the impacts made by our donation. Another rewarding aspect is meeting other changemakers. All the people who run chapters of Love and Sweet bakery are incredibly inspirational and dedicated to the mission. Recently, I attended Riley's Way Foundation's Call for Kindness Retreat in DC. There were numerous young changemakers with their own nonprofits and missions. It was a life-changing experience with some of the most genuine, kind people I have ever met! 
Ava R. '24, Performing in the Rising Star Project's production of Into the Woods
What has taking part in RSP been like? How does this differ from participating in Lakeside productions?
I play Cinderella's Stepmother! As we rehearse, a professional (varsity) cast is performing Into the Woods concurrently. We are able to meet with our varsity cast counterparts to discuss our characters and see their production, which has been a very helpful part of the process. Additionally, we will be replicating (almost exactly) the varsity cast's staging! Once their run ends and ours begins, we'll use the same light cues, props, and set — so precision is key. This process has been a bit of a culture shock because of how fast-paced everything is. We only have six weeks to put this complex show together, which is very different from Lakeside productions where we're given more time to memorize lines and staging. While stressful at times, I enjoy hanging out with the amazing community during rehearsal every day and would recommend this program to anyone interested in theater! 
When and where do rehearsals take place? What was the audition process like?
All rehearsals take place in the DAT-5 rehearsal space near the 5th Avenue Theatre in Downtown Seattle. The commitment is Tuesday-Friday from 4:00 – 9:00 pm and Saturdays from 10:00 am – 6:00 pm. There were two rounds of auditions. Around five people were called back for each role for the second round, and from there, they selected who would play the character and chose an understudy.
When will the performances be?
The show's run time is two hours and 45 minutes with a 15 minute intermission after the first act. Performances will be on March 16 – 18. Tickets can be bought at https://www.5thavenue.org/education/theater-careers/rising-star-project/.
Leave a Comment