Stripping or Sport: The Stigma of Pole Dance
Being a teenage pole dancer comes with a lot of stigma. Despite Lakeside's academic reputation,  most of its student body participates in a sport, either through school, recreationally, or on a club team. Our impressive sports teams, such as the girls volleyball team, the swim and dive teams, and the tennis team, have won numerous state championships, and our players get recruited to prestigious colleges for their sports skills. So when I tell people that I pole dance, why do I not get the same reaction as my peers?
I'm often met with looks of confusion and disgust, along with the question, "Wait, so you're a stripper?" I've found that there is a common misconception that "pole dancing" is interchangeable with "stripping." Instead, I like to think about it in terms of rectangles and squares: every square is a rectangle, but not every rectangle is a square. Every stripper is a pole dancer, but not every pole dancer is a stripper. 
As a non-binary individual, pole dancing gives me a sense of relief, because I don't need to find ways to fit into a binary sport. The pole community accepts anyone regardless of gender, race, and size, which creates an inclusive and welcoming community. I found out about pole dancing classes through a fellow senior, Allette F. '23, who also takes classes at Positive Spin Pole Dance Studio in Greenwood. The studio offers classes for anyone 13 or older, including specific classes for plus-sized individuals, teens, and different levels of pole dance. I reached out to Allette last June asking where she took classes, and a few weeks later I started learning and immediately fell in love with the sport.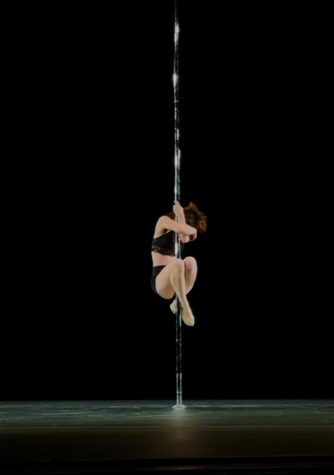 Like any other type of dance, pole is a creative outlet which can be used to express a story or theme. Pole dancing features worldwide competitions, often hosted by Pole Sport Organization (PSO). In February, I competed in my first pole competition at PSO's Emerald City After Dark event at Broadway Hall in downtown Seattle. Pole dance competitions require skill and creativity, as dancers are expected to choreograph their routine in addition to performing. I choreographed my routine to the song "Habits" by Genivive Stokes (available for view on Tatler's website), balancing advanced moves with easier ones to make sure I wouldn't tire out. Since I've only been pole dancing for seven months, a three-minute routine was a big stretch for me. I created a training schedule for myself and also increased my food and water intake in the month of February as I was training harder and needed more energy to fuel my body. In 2022, I invested in a high-quality home pole which enabled me to train at any time, and my skills started rapidly improving. 
PSO competitions are organized by five levels of skill and 10 categories. I participated in the Showcase category, where dancers aren't actually competing against other dancers, they're just performing. Being in Showcase as opposed to the competitive categories relieved a lot of pressure for me, especially because it was my first ever PSO event. 
"
As a non-binary individual, pole dancing gives me a sense of relief, because I don't need to find ways to fit into a binary sport. The pole community accepts anyone regardless of gender, race, and size, which creates an inclusive and welcoming community.
The day of the performance, I was incredibly nervous, even though I wasn't technically competing. I arrived at Broadway Performance Hall at around 8 a.m. for check in and pole testing. Since I wasn't on until 5 p.m., I left and came back around 3 p.m., when I watched other routines before going to the dressing room to stretch and prepare for my performance. The crowd was bigger than I anticipated; over 300 people were in the audience. After preparing, I waited backstage until it was my turn. They announced my name and I walked out onstage, smiling to mask my nervousness. I started my performance off with my staple advanced move, a twist grip handspring ayesha. Some of my harder moves included a broken doll variation, an inverted crucifix, and a shoulder backflip. I performed to the best of my ability, and even though I slipped up a couple of times, I left the stage incredibly proud of what I'd accomplished. I also met many incredibly kind people at PSO who helped me out and cheered me on; everyone was so nice to one another that it hardly felt like a competition and more like a close-knit community. 
Pole dancing has opened up so many opportunities for me and has helped me to meet so many incredible people who all have a different reason for dancing. I pole dance because it makes me feel happy and confident in my body and identity. I know there will always be stigma around the sport, but I hope that I can help destigmatize pole dancing by writing articles like this or posting my achievements online. No matter the looks or comments I receive, I will forever be glad I started pole dancing. I am a teenage pole dancer, and I have no shame about it.
Leave a Comment
About the Contributor
Cassia W. '23
Cassia W. from the class of '23
They're lots of fun and number one, on that, we all agree
Only been here a semester but they're spilling all the...