PGA Ends Rummage Sale, Hopes to Preserve "Gems" of Tradition
If not for its academic reputation or its college-like red brick campus, what Lakeside is perhaps best known for in the Seattle region is the Rummage Sale. The school launched the event in 1951 in the Chapel basement, and subsequently held it in locations as varied and vast as the Seattle Center Flag Pavilion and an 89,000 square-foot double hangar at Magnuson Park. At one point, Rummage had enough merchandise to fill 11 45-foot semi trailers. The biannual sale quickly became a tradition and an important fundraiser for the PGA. Now, after 68 years of sales interrupted by a global pandemic, the PGA has made the difficult decision to permanently cancel the Rummage Sale.
This decision involved factors over a decade old. Following the 2008 financial crisis, donations plummeted, explained Vonnie Breidensten, who was the PGA's volunteer coordinator until 2019. "People weren't buying new or getting rid of the old as much." Even when the economy recovered, people had other avenues to get rid of used goods, like Craigslist and eBay.
Until 2015, the Rummage Sale happened twice per year, but in 2014, the PGA realized that their volunteer needs were outpacing supply. The PGA executive committee concluded that there were simply no longer enough willing volunteers to fill the nearly 700 shifts required for each Rummage Sale, each four to six hours long. Thus, they decided to downsize from two sales per year to just one and stop sorting Rummage donations during the summer, giving volunteers a break from the end of June to the end of August.
Then, of course, the pandemic hit and the lockdown began just weeks before the 2020 Rummage Sale was set to happen that March. For the next two school years, parents and guardian volunteers weren't allowed on campus, meaning that sorting Rummage donations was impossible. In 2022, the executive committee decided not to plan a Rummage Sale for 2023; even though COVID restrictions were loosening, the future of the pandemic was still unclear.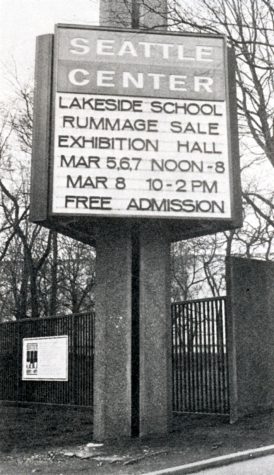 In January 2023, the executive committee had to decide again whether to host a Rummage Sale in 2024. They recognized that the "habit" of Rummage Sale volunteering had been lost over the pandemic, as many current Lakeside parents never had the opportunity to experience the sale before. The PGA formed a committee of current parents to make a list of pros and cons for the Rummage Sale and, to include the full spectrum of perspectives, included a mix of Rummage Sale veterans and people who had never volunteered before.
That pro-con list went to the PGA executive committee, who compared it with the PGA's mission: to fundraise, build community, and support communication between the school and families. On the fundraising side, the Rummage Sale had been supplanted by the annual ROAR auction as the PGA's most important fundraiser, especially after Rummage shrunk to only one sale per year. When they reviewed the expenses for running the sale, including table rentals, junk hauling services, pest control, and hiring staff versus the amount of money the sale brought in, "essentially we came out even," said PGA President Anne Marie Krivens.
However, they also recognized the Rummage Sale's importance as a community builder. "What we really loved is that Rummage provided a way for some families to come together," said Ms. Krivens. "And then it provided some sense of community outside of Lakeside in the surrounding neighborhood." When the PGA surveyed parents about the prospect of bringing back Rummage volunteering, some were interested, but others wanted different kinds of opportunities to connect with other parents.
Based on all of these factors, the executive committee decided to discontinue the Rummage Sale and start a new service tradition honoring the legacy of Ms. Zinda and Mr. Noe after his retirement. It will begin this year with a day of service on Saturday, March 18, but the PGA hopes to eventually expand the program to include service opportunities throughout the entire year. "We decided not to continue Rummage, but we really want to focus on our community-building and service of others. And that is the direction we're now moving in," said Ms. Krivens.
"
We decided not to continue Rummage, but we really want to focus on our community-building and service of others. And that is the direction we're now moving in."
This year, volunteer opportunities include on-campus donation collections for Aid Northwest and Jubilee House, other off-campus collections organized by individual parents or guardians, and other activities like cooking for Community Lunch on Capitol Hill. There'll be space for several hundred parents, guardians, and their families to volunteer together. "We use what we call our potluck model, where you have someone hosting it, but you invite in others to join you at the work table," explained Lani Carpenter, PGA administrative and program specialist. "We wanted to empower parents so it wouldn't be a bureaucratic feeling." The PGA hopes that this new service tradition will preserve some of the community-oriented "gems" of Rummage while making the scope of the project more manageable.
Still, the Rummage Sale had an undeniable positive impact on Lakeside as well as the greater Seattle community. For many Seattleites, the Rummage Sale was their first, or only, introduction to Lakeside. Ms. Krivens remembers chatting with someone next to her on an airplane, and when she mentioned she worked at Lakeside, they responded, "Oh, Lakeside; we know Lakeside because we go to the Rummage Sale every year."
Ms. Breidenstein thought that one of the most important aspects of the Rummage Sale's influence is that it helped dispel some negative perceptions of Lakeside. "Having the general community come to our campus and see the volunteers in their jeans and their sweatshirts…people who looked like them, diversity in color…they thought, 'My kid could go here and be accepted.'"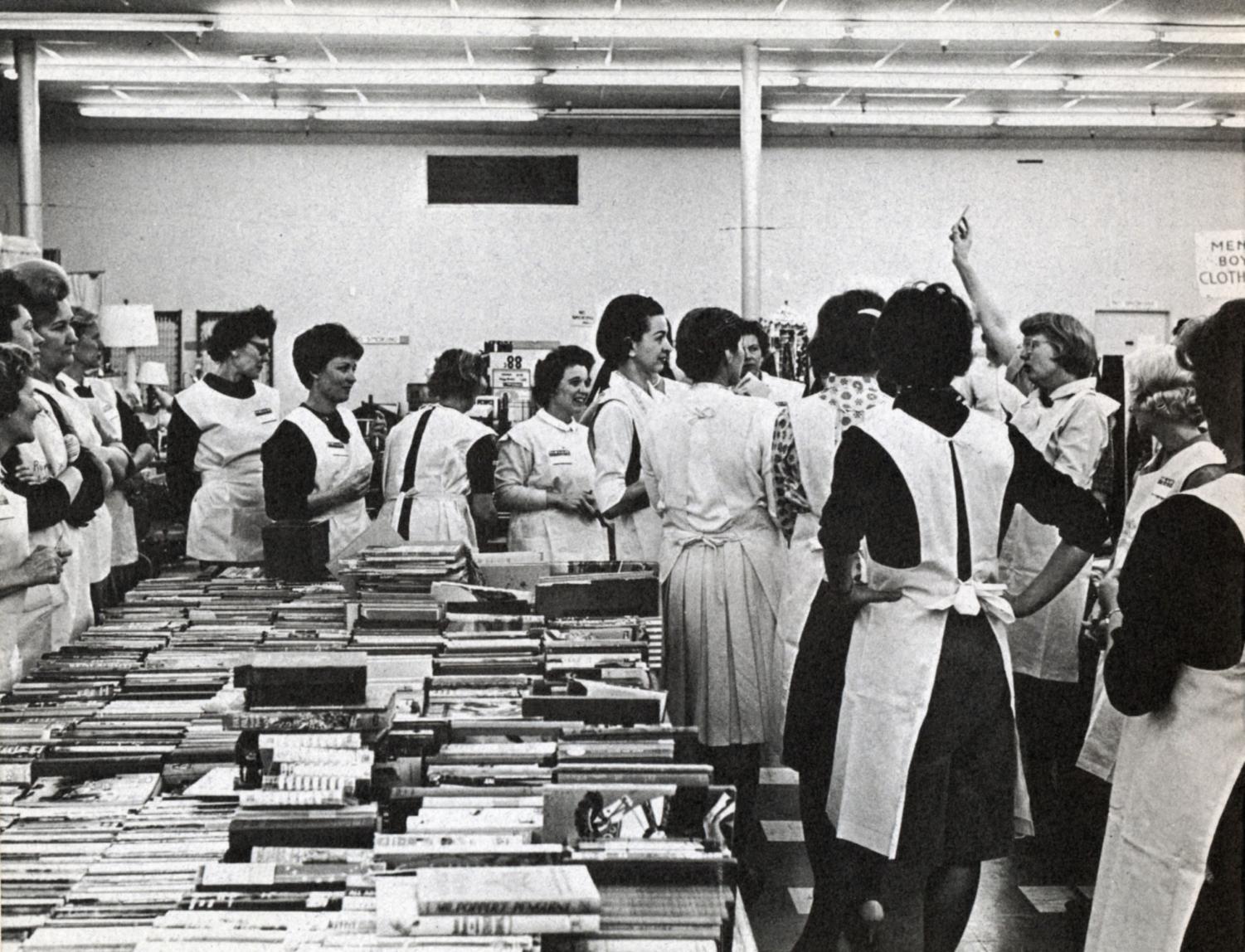 Within Lakeside, too, many people have fond memories of volunteering at Rummage, and some formed lasting friendships through their volunteering. At the end of each day, Ms. Breidenstein recalled, "I was exhausted, but like everybody else, we were all smiling all day, every day." Another potentially underappreciated benefit of Rummage is simply how many used goods it saved from ending up in landfills.
When the first Rummage Sale happened in the small Chapel basement way back in 1951, it's unlikely that its creators knew the impact it would come to have. Lakeside might be leaving Rummage in the past, but it's inevitable that new traditions will be created and the positive impact in the community will remain. It just remains to be seen how that will pan out.
Leave a Comment