Lakeside in Data, Part 2
Welcome to the second part of the Lakeside in Data project, a step towards a better understanding of ourselves and those around us. Data is useful in many ways: it has the power to represent a community in its entirety, encompassing the full range of actions and beliefs of every individual. Each individual click of the "submit" button on the Tatler Poll is a bit of your heart and soul sent to us, printed on this page or screen.
Our first question this month asked Lakesiders how happy they felt, from a scale of one (least happy) to ten (most happy). Your statistics teacher would point at this and say, "Oooh, a bimodal distribution!" The average happiness level was 5.8; for comparison, the average happiness level across the USA in 2021 (in the middle of the pandemic) was around seven, according to the World Happiness Index. Voltaire of French Enlightenment fame once said, "I have chosen to be happy because it's good for my health." Buddha of spiritual fame once remarked, "There is no path to happiness; happiness is the path." All of this to say: don't worry, be happy.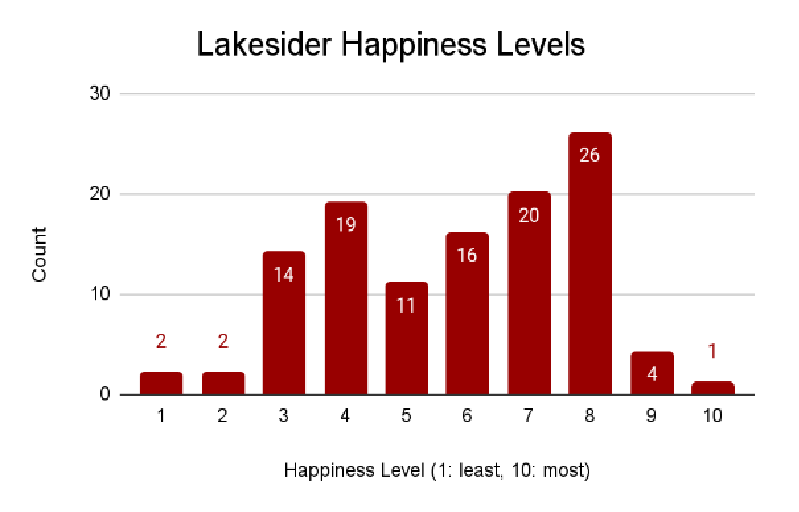 We also polled Lakesiders on their coffee consumption habits. It turns out that over half of poll respondents abstain from coffee or consume less than one cup per day. Another third have a healthy habit of one cup per day. Still, nearly one in 20 Lakesiders consume a whopping three or more cups daily, so chances are that many of your classes have at least one caffeine-guzzling Starbucks connoisseur.
Lastly, we wanted to know about Lakesiders' visions. Clearly, having vision is important for any member of the Lakeside community. It seems that a majority of Lakeside students have fully-functional vision, ready to lucidly perceive the world for what it really is. A select few are farsighted; perhaps their unusual foresight will prepare them to be future leaders. Many of us are myopic: do we live too much in the moment, day to day, week to week, month to month? For those who are nearsighted, however, not all hope is lost: as a wise man once said, it is not what you look at that matters; it is what you see.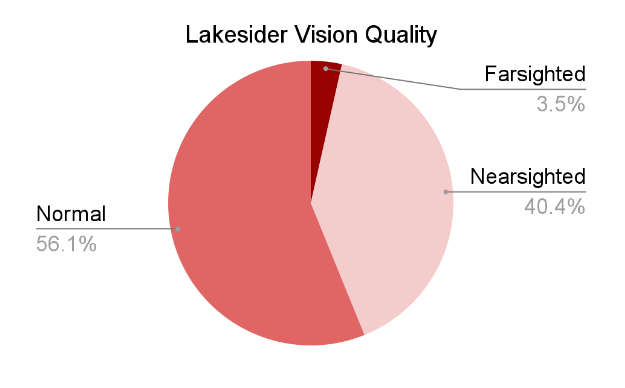 The Lakeside in Data project is a means for informing ourselves about our own school. If you want to know more about Lakeside and yourself, make sure to participate by filling out next month's Tatler Poll!
Leave a Comment