Girls Swim & Dive: Slept On or Not Worth Waking Up For?
Do you find yourself having trouble waking up at 7 in the morning and staying awake in your first period class?  Well, girls swim and dive practices start 6 a.m. five days a week, and swimmers and divers alike love the grind. The team practices four to five times a week in the pool and "dryland" twice a week in the school gym. Swimmers and divers' highlight of the week is afternoon meets on Fridays.
In a Tatler poll, four out of sixty-eight respondents expressed concerns about Lakeside's rigorous morning practice schedule, but others argued that 6 a.m. swim practices have their perks; the practices keep swimmers' afternoons free and provide a fresh start to the school day. Club swimmers Sadye D. '25, Noli H. '25, and Chloe L. '26 favor the morning practice schedule. "I prefer morning practices, so I don't miss club afternoon practices," Sadye explains, "and I enjoy not sitting in traffic at 6 p.m. on I-90." Chloe also prefers morning practices because they rarely conflict with club practice. "I have to balance club swim team and [Lakeside] swim and dive because I love both," she says, "and the coaches take into account your own personal situation." 
Swimmers may have more free time in the latter part of the day, but the early wakeups also mean early bedtimes, at least in theory. In practice, however, school work, club practices, and other extracurricular activities foil early bedtimes, leaving swimmers sleep-deprived. Nonetheless, as the season progresses, swimmers and divers learn to effectively balance their school work and sleep. For Iris T. '25, swimming is a great start to her day. She shares, "I love swimming – it feels amazing. The community vibe is really good and practices are always fun. You start your day off on a good note."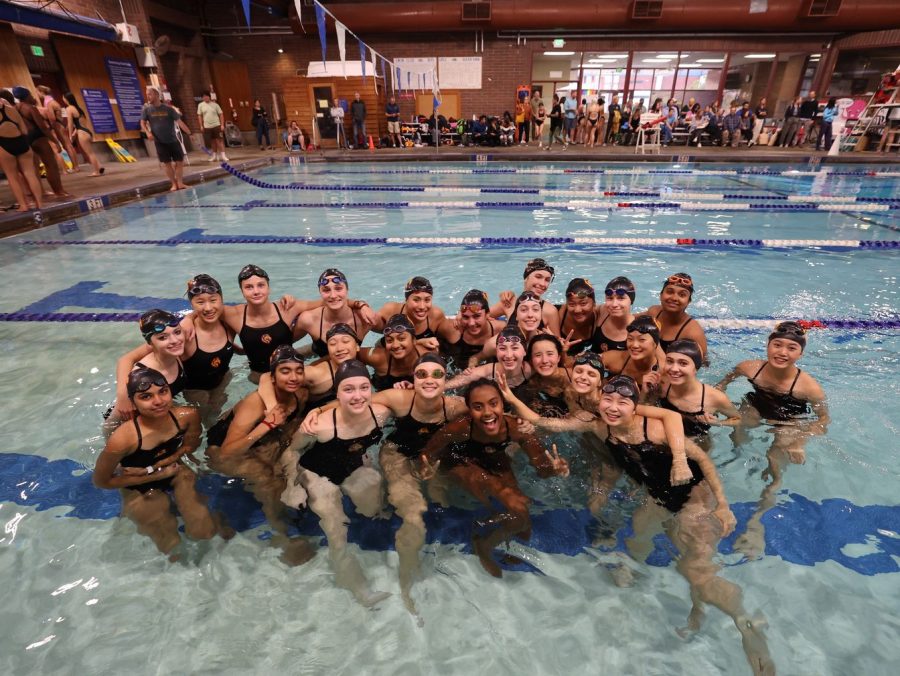 Early wakeups aside, the team creates an inclusive environment where all swimmers feel adequately challenged and supported. "It seemed intimidating at first,"  Iris says, "but everyone is really friendly." Swim and dive is "different from club practices, but every day I am learning something new. It is a really great community," says Noli; "No matter what level you are, you will enjoy it and you will improve." In the past, coaches also have incorporated light-hearted relays, social swim, team hikes and dive games into the schedule, so there is something for everyone. Sadye agrees, sharing, "The swim team is a supportive, fun group of people. I really enjoy doing spirit, traveling, attending meets – it's all a bonding experience." The atmosphere before, during, and after the meets is positive, energetic and motivating. At meets, "if you're not swimming, you're cheering, and if you're not cheering, you're being cheering for," Chloe emphasizes. 
Similarly to other fall sports, girls swim and dive is a great way for freshmen to get to know other Lakesiders. Chloe finds it "a helpful experience because everyone is really supportive and gives great advice. It has helped me connect with people across other grades." Noli emphasizes, "It is really nice to see someone you know when passing by teammates or walking between classes." Members on the team bond over early wakeups, animated meets, silly relays, team hikes and breakfast.  Lakeside features some of the best swimmers in the state, but this should not discourage ex-club swimmers, novice swimmers, nor divers from joining the team– there is something for everyone.
Leave a Comment