Mike Lengel: Football Coach Turned Soccer Enthusiast
English Premier League soccer club Leeds United has gained an unlikely fan this summer: Mike Lengel, Creative Content Director and Football Head Coach. Oftentimes, American EPL fans like Mr. Lengel wake at dawn to support their team on an eight-hour time difference, so what motivated a football coach to do the same? For Mr. Lengel, what first seemed like a summer side gig became a gateway into the local and finally international soccer scene.
In January 2022, Mr. Lengel first read news of Ballard FC, a semi-pro club that would compete in USL League Two for its inaugural season. Sensing an opportunity, he photoshopped a prototype BFC jersey onto U.S. Men's National Team player Christian Pulisic and sent the image to the organization, hoping to lend his design skills in the offseason of Lakeside sports.
Impressed, BFC hired him, and Mr. Lengel began work on the organization's budding social media as Creative Media and Branding Manager. Soon, Mr. Lengel realized the scope of his position would be bigger than he had first anticipated. With the first season just around the corner, "whether it was sponsorships with businesses around Seattle," he says, "players signing to play with them, coaches being hired, or pop up events to build the fan base," there was constant demand for graphics.
Graphic design is nothing new to Mr. Lengel. Although claiming to be amateur ("I have a degree in Youtube," he says), Mr. Lengel works extensively designing images to highlight Lakeside athletes. For BFC, one of his graphics, pictured (left, etc.), carries his trademark style: stark, saturated colors contrasted with a black and white, three-dimensional background. However, after conducting trend research on professional soccer social media, Mr. Lengel realized he couldn't just stick with one style; he needed to create brand-new templates for match day graphics, starting 11 graphics, goal graphics, and "man-of-the-match" graphics, to name a few. 
As a new organization, BFC had its doubts. Interbay Stadium isn't in Ballard, and has virtually no parking. Setting location aside, the organization didn't know if the community would buy in: as a semi-professional club, the majority of the squad consisted of college players who only friends and family had heard of, not famous professionals.
Those fears were soon dispelled. In their first ever game, Ballard FC blew out opponents Lane United FC 5-1. From live music to a beer garden, Mr. Lengel described the atmosphere as an "exciting 3000-person community." Even before the game, a self-organized group of fans marched to the stadium from a bar up the street carrying DIY signs to show their support. As for the players, "the community really embraced this idea that these aren't MLS players that you'd only follow on social media," Mr. Lengel says. "You could be standing right along the fence, and after the game get autographs from the players—it was so accessible."
After setting the tone in game one, BFC continued on their trajectory of dominance, finishing the regular season at 8-2-2 to qualify for the USL League Two playoffs. "Because we were headed to the playoffs," Mr. Lengel says, "the marketing effort of 'now you've really got to see this team' took the forefront of what we were doing." With more eyes on them than ever before, BFC didn't let off the gas, collecting tough win after tough win in the postseason. In a climax, star striker Alex Mejia sent BFC into the Conference Finals with a goal in overtime off of an overhead kick.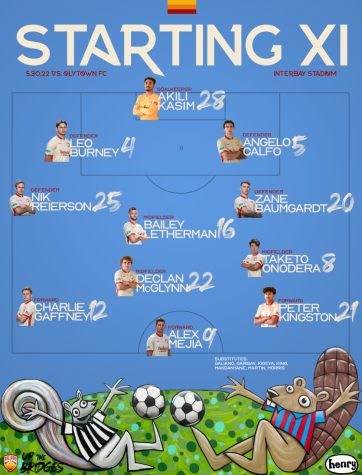 In the quarter-finals, BFC lost 0-1 to the eventual USL League Two champions, Ventura County Fusion. Still, BFC finished the postseason better than 110 other teams in the league. "The general manager, Sam Zisette—I think he would say he expected the team to be good, but not necessarily make such a national splash on the USL stage," Mr. Lengel says. "You know, this brand new team—how is it this good already and has this fanbase already?"
Even before designing for Ballard FC, "I've always liked soccer," Mr. Lengel says. In Harrisburg, Pennsylvania, where he grew up, "football is a bigger force than soccer, and I'm a product of where I'm from." Despite this, "I think if you surround yourself in a community of people who are interested in different things than you are interested in, you tend to want to be interested in those things," he explains,  "if not to just be part of the conversation, but also because you're learning new things and new skills and garnering new appreciations for things you otherwise weren't that familiar with." The result? Mr. Lengel choosing to support an "exciting" Leeds United squad headed by Americans Brendan Aaronson and Jack Harrison. Mr. Lengel entitled the duo "some American goal scoring stars," after their goal contributions to topple perennial giants Chelsea 3-0 a week ago.
Leave a Comment