Lakeside on Seattle Energy Benchmarking Data
School is back. Amid all the hallway chatter, I hear Aaron's voice: "If I'm writing the EIC letter, who will draft a sequel to my incredible sustainability article last year?" 
So here I am, set out to prove that sequels are always worse. Luckily, Tatler will be running a year-long series on sustainability, aiming to cover energy use, transportation, recycling/composting, school policies, government policies, and others, so do not fret if the contents of this article do not satisfy you: there's always next month. 
A good place to start this exploration of sustainability is by analyzing the energy usage and greenhouse gas emissions of Lakeside's buildings. Luckily, the city of Seattle has collected data on energy usage and emissions from 2015 through 2020 and published it for the public to view. 
The newest of the Lakeside buildings, the Paul G. Allen Athletics Center should theoretically be the greenest. And it is. With 31% more energy efficiency (in terms of energy usage per square foot) than the average K-12 School in Seattle and 44% fewer emissions per square foot, this building is the standard for the other Lakeside buildings, and Seattle schools as a whole. Aspects that contribute to this include solar panels, efficient heat circulation, and energy-saving LEDs.
Since construction in 2014, the building has stayed ahead of the curve in terms of energy efficiency, as show in the figure below:
However, not every building is up to the city's standards. In fact, the middle school building lags behind both its Upper School counterparts and the citywide average. From 2015 to 2020, despite decreasing 27.6%, energy usage and emissions have both consistently been far higher than the city average, with more than double the energy usage intensity of the average in 2017. Perhaps the building is due for some of the care and attention that contributed to the AAC's success.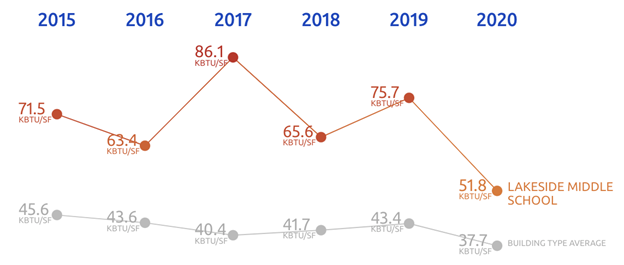 One thing, however, that the AAC shares with the middle school is a reliance on gas. Both buildings use gas for more than 40% of their electricity, contributing more than 85% of their emissions. If energy usage cannot be easily decreased, perhaps a transition to devices that use electricity could help. Either way, the school is certainly conscious of its impact, and hopefully we will see its buildings become more sustainable in the future.
Leave a Comment