Rom-Com Recommendations: The Messy, The Awkward, and The Perfect
As Valentine's Day draws nearer and nearer, what better way to spend your time than watching some good 'ol rom-coms to get into the spirit? Well, we've got you covered. Love is in the air, and as avid movie watchers, it's certainly on our watchlists as well.
We've all seen our fair share of stereotypically bad rom-coms, but sometimes laughing at the ridiculous plot or unrealistic characters is part of the fun. But sometimes we find the perfect rom-com, one worth rewatching every year. Don't worry: in this list, we've got both!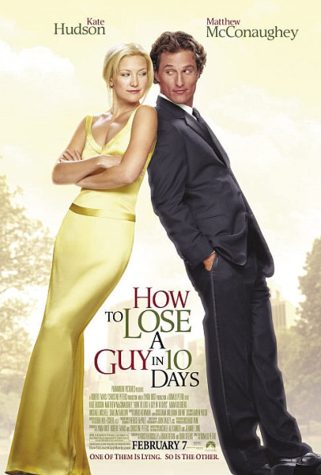 How To Lose A Guy In 10 Days (2003):
Advice columnist Andie Anderson (Kate Hudson) takes on the challenge of writing an article on, you guessed it, How To Lose A Guy In 10 Days. She takes on this challenge herself… but unluckily enough, her "victim," Ben Berry (Matthew McConaughey) is trying to do just the opposite: get Andie to fall in love with him in just 10 days. 
If I had to name the rom-com that has given me the most second hand embarrassment, this might be it. There are so many awkward moments that I was worried my face would be stuck in a perpetual cringe, like when Andie and Ben sang "You're so Vain" at the end of the movie. However, that made the whole movie super funny and exciting to watch — one of my favorite moments is when Andie pulls out an album with photos of her and Ben's imaginary children. You can't go wrong with this movie, it's fast paced and really entertaining. However, I do think the reason why Andie decided to write this article, to prove the way one of her friends behaved would drive away any man, was a little off. Although it's not the most heart wrenching or tear jerking rom-coms you'll ever watch, it's definitely a ton of fun. 
Cringeworthy moments: 10/10
Main character names: 6/10 (Yeah, I'm not really sure what they were going forth with the alliteration)
Overall Rating: 7.5/10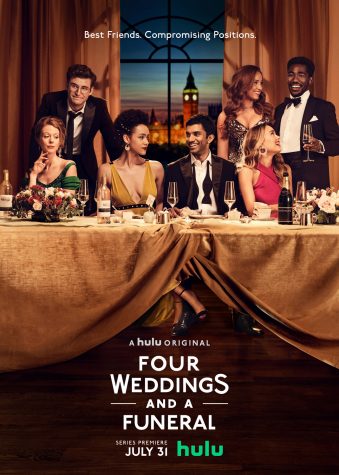 Four Weddings and a Funeral (1994):
Charles (Hugh Grant) and his friends find little success with love. However, upon meeting Carrie (Andie MacDowell) at the first of many weddings featured in this movie, he instantly falls in love. However, luck is still not on his side and Charles' and Carrie's paths continue to cross (and uncross) awkwardly at a series of weddings — and sadly, a funeral. 
This movie checks all the boxes of a light, fun, feel-good romcom… except for one key element. Although I found Charles funny and likeable, I cannot say the same about his love interest, Carrie. She has horrible intentions, is an uncompelling, un-funny, and irritating character, and (almost) ruined the movie for me. She constantly leads him on, and then, when she finally does confess her feelings for Charles, it's at the worst possible time. Do I still think it's worth watching? Yes, if you can get over Carrie's many flaws. I would watch it again just for all the supporting characters, namely Rebecca, Gareth, and Matthew, who are all so entertaining. In conclusion: watch this movie for the antics and stories of Charles and his friends, not for Charle's and Carrie's romance.
Painfully awkward (but super funny) moments: 8/10
Carrie (yes, just Carrie): -10/10
Overall Rating: 6/10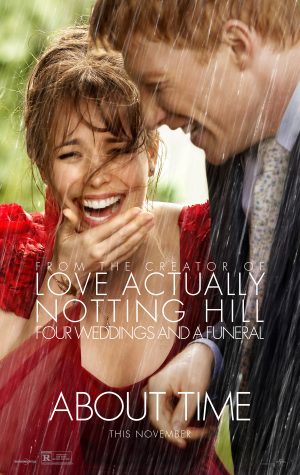 About Time (2013):
Upon turning 21, Tim (Domhnall Gleeson) finds out that all the men in his family can time travel, and makes it his goal to use his unique skill to make his life better… by finding a girlfriend. With multiple trip-ups along the way, he wins Mary's (Rachel McAdams) heart, but even after accomplishing his initial goal, he realizes that his life is a little more complicated than expected and that he'll need to make some hard decisions along the way.
Equally emotional, wholesome, and funny, I definitely recommend this movie. I found the use of time travel was unique and well done, and I found myself empathizing with all the characters. I'm not a big movie-crier, but I definitely shed (more than a few) tears during this movie. It's a great movie to watch with friends, family, or by yourself at 12am with some good snacks. 
Character authenticity and likeability: 9/10
Usage (and believability) of time travel element: 7/10
Overall rating: 9/10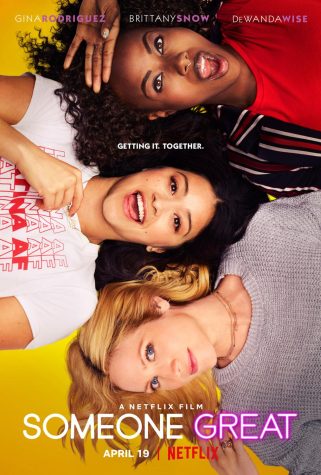 Someone Great (2019):
Someone Great follows three best friends, Jenny, Blair, and Erin, as they spend one last day together in New York before Jenny moves away to San Francisco for work, tackling relationships, both past and present. While the movie centers around a breakup, it's funny and has a lot of heart. 
(Fun fact: this movie inspired Taylor Swift's song "Death by a Thousand Cuts.")
I really liked this movie because it didn't really follow the same "formula" as other rom-coms, where two people meet unexpectedly and have undeniable chemistry, painting an unrealistic yet magical image of love. Instead, Someone Great focuses on Jenny's journey of heartbreak and attempts to find closure. It also shows the romantic relationships of her two friends, with Blair realizing that her relationship with her boyfriend wasn't the same as it used to be, and Erin being conflicted about admitting her feelings to her girlfriend. Overall, I'd recommend this movie to anyone who loves the aesthetic of Taylor Swift's album 1989 or wishes to see the movie form of Lorde's song "Supercut." 
Heartwarming moments (and heartbreaking ones): 9/10
Authenticity and relatability: 10/10
Overall Rating: 10/10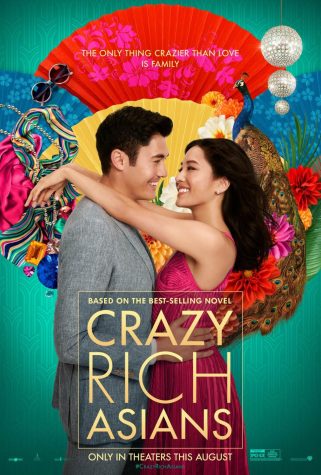 Crazy Rich Asians (2018):
Rachel (Constance Wu) is happy to accompany her longtime boyfriend, Nick, to his best friend's wedding in Singapore. What she doesn't know, however, is that Nick's family is extremely wealthy (like, crazy rich) and he's considered one of the country's most eligible bachelors. Thrust into the spotlight, Rachel must now contend with jealous socialites, quirky relatives and something far, far worse: Nick's disapproving mother.
Wow. It really feels like no time has passed since this movie first came out. It's iconic, definitely in more ways than one. It's dramatic. It's extravagant (case in point: uh… everything?). And it's also a personal favorite of mine! More romance than comedy, this movie does have its flaws like a predictable plot and shallow characters. Crazy Rich Asians falls into the typical "rich family disapproves of their child's new partner even though they're in love" trope, with Nick's controlling mother who won't allow him to marry Rachel because of her background. In spite of these downsides, however, it's still a funny, crowd-pleasing, and feel-good(?) movie. By the way, it's also based off of a book series. So, if you have extra time this Valentine's season, pick up a copy of Crazy Rich Asians by Kevin Kwan (the first book of three) and read to your heart's content!
Character likeability: 7/10  (Yes, Michael, I'm looking at you.)
Flexing the dough: 11/10 
Overall rating: 8/10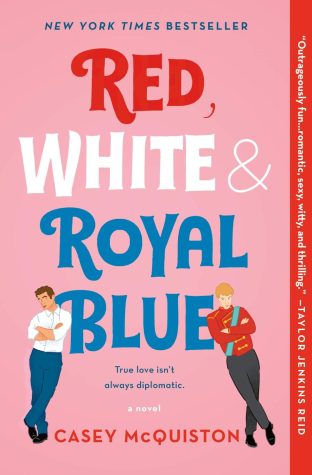 Red White & Royal Blue (2019): 
Red, White & Royal Blue chronicles a rivalry-turned romance between the president's son, Alex Claremont-Diaz, and Prince Henry of Wales, his childhood nemesis. International socialite duties do have downsides—namely, when photos of a confrontation between Alex and Henry at a royal wedding leak to the tabloids and threaten American/British relations. The plan for damage control: staging a fake friendship between the First Son and the Prince.
Though this is a book recommendation, Red White & Royal Blue truly fits into the role of a rom-com. It's funny, cute, and refreshing! Personally, I like this book a lot because of the characters. They're developed, likeable, and you really get to know them as the book goes on. The relationships are also very well-written and sweet, and while there is an element of humor included in the story, there are also a lot of profound and meaningful moments. (Spoiler alert: yes, Henry and Alex do fall in love!) Henry stands up to his family, comes out, and says that he loves Alex and won't stop loving him no matter what they think. So, this book isn't just a dumb rom-com. It's always hilarious and perfectly executed, so be sure to check it out if you have a chance.
Fluffiness: 11/10
References to history (smh): 9/10
Overall Rating: 10/10
We've tried to include something for everyone, so hopefully this list helped you find your next fun (and potentially cheesy) Valentine's day entertainment. If nothing on this list caught your eye, you can take a look at some of the poll suggestions below. Also, we're teaming up with the library board to display some of these rom-com suggestions, so make sure to take a look at the exhibit as you walk into the library!
Leave a Comment
About the Contributor
Sophie W. '24, Web Chief
You would not believe your eyes

When meeting Sophie Wu,

She loves to sing and play the keys,

Working on Tatler web, oh so eagerly.



Bellas...