A Day in the Life of Bernie Noe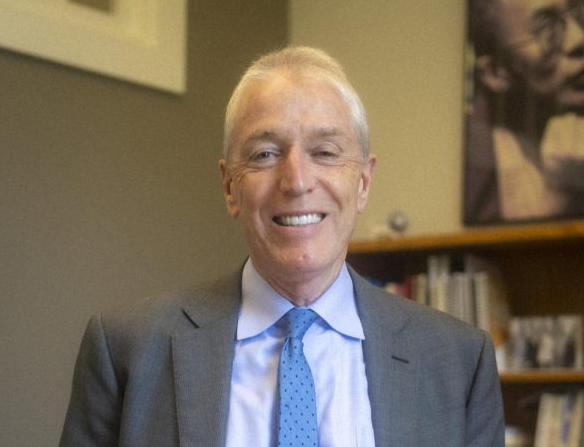 "There are three types of heads of school," Mr. Noe says. "The affable, the pragmatist, and the visionary." An affable head wants everyone to like them, a pragmatist is political, and a visionary turns an institution on its head – they often get fired within three years, Mr. Noe says, "But if they last, they become the great heads." 
The day's work for a head of school has three corresponding aspects: the interviews, the informants, and the crises. But on Tuesday, October 12, when I am shadowing Mr. Noe to find out what the head of school actually does, our day starts with none of the three. Behold: a Zoom webinar. This is the online PGA meeting that Mr. Noe holds after arriving at his office at 7:52 a.m. Through the hour of awkward silence (we sit at the same semicircle table in the middle of his office, avoiding eye contact), I look around. Mr. Noe has a framed drawing of Ms. Christy as an octopus with advisee signatures on it, posters of Eleanor Roosevelt and Gandhi, and an Anthurium plant by his window. His office smells like green hand lotion.
Mr. Noe adjusts the folders on his desk. Throughout the meeting, he speaks twice. Then CFO Birage Tandon arrives for the first meeting, and the day starts.
The Crises
The crises come, one after one: the 987 bus has been late every day, so Metro shifted the schedule up 15 minutes. One parent wrote to Mr. Noe about the changes; another is concerned about social distancing on the buses: "What are you going to do about it?"
Lakeside just received a one-million-dollar gift, and the school must decide how to spend it. One confidential matter later, the meeting ends, and we go to the WCC. Mr. Noe gets a decaf coffee; he has already been awake for six hours. He has meditated, done CrossFit, and sent some emails, all before coming to school.
"
"There are three types of heads of school – the affable, the pragmatist, and the visionary."
— Mr. Noe
After we return to his office, Mr. Noe and MS Director Reem Abu Rahmeh contemplate the search for a new Upper School Director – a meeting the day before with incoming Head of School Kai Bynum was a productive one.
US Director Felicia Wilks agrees. Ms. Wilks comes to discuss proposed new courses in animation and music production – all the while, Mr. Noe is taking notes with his fountain pen, and Ms. Wilks is taking notes with hers (a German one, Mr. Noe says, at the same price point as his Japanese one).
Now they need to discuss their sexual assault speeches. Ms. Wilks has been practicing her comments to the board, parents, and others. Mr. Noe's speech must address expectations of transparency and potential changes in policy, in response to comments on shunning and shaming around announcements of sexual assault. Ms. Wilks tried to tamp down rumors during that morning's webinar; the main issue is that students are often frustrated at what they know, she says, but "we can only act on what we know." 
We adjourn for lunch and reconvene in the Fireplace Room.
The Interviews
After lunch, the interviews begin, with the youngest and oldest Upper Schoolers. In a series of "exit interviews," Mr. Noe talks with seniors about their Lakeside experience. He asks their goals for senior year, hands out fruit tarts, and takes notes. "It's about not making it all about college." With the freshmen, he does the same: goal, fruit tart, notes. "It's about a work/life balance." After all the interviews, Mr. Noe takes a fruit tart, I take a fruit tart, and we admire the flaky and delicate crumble.
The Informants
After the fruit tart intermission, act three begins in Mr. Noe's office. Director of Admissions and Financial Aid Wellesley Wilson comes bringing data: overall applications are up 25%, admissions is reaching out to four schools, there are 27 tour guides and five Open House events, and admissions has hired four people and is still down three. Mr. Noe has three minutes to talk at an event the next day but he can make it 10. People are calling in at unusual levels about mid-year transfers into Lakeside.
Then Special Events Coordinator Allison Conkin arrives, bringing more data: 4100 miles, five months, three people on the Amazon. Darcy Gaechter is speaking for the first in-person lecture since February 5, 2020, and Mr. Noe needs to know. Author of Amazon Woman, Gaechter is the first woman to kayak the Amazon from source to sea. When she visits on October 20, Ms. Conkin must synthesize stories from her day at Lakeside and deliver them to Mr. Noe by 3 p.m.; Mr. Noe must write a speech in one hour to introduce Ms. Gaechter's lecture and deliver it at 4 p.m. 
Then our day is done. Mr. Noe has another appointment later, and I am left to write these eight hours in 800 words: crises of buses and budgets, interviews on starting and ending the Upper School experience, and the facts and figures of applicants and Amazonian voyagers (and fruit tarts!). From 8:30 a.m. to 3:10 p.m., we have Mr. Noe, a visionary, a head of school, in a day in the life.
Leave a Comment
About the Contributors
Aaron Z. '23, Editor in Chief
From A to Z, AZ's got it all. Especially existential boredom. Recently, Aaron cried while listening to Wagner's "Tannhäuser" on YouTube, the most he's...