Lakeside Clubs: Did You Know?
Student-led clubs are a longstanding tradition at Lakeside that serve to highlight the diversity of interests within the student body. They are tight-knit communities that provide students with the opportunity to show off their expertise and passions in various areas. At the same time, participation in clubs is also a chance for students to find groups of peers sharing common interests, and to obtain delicious treats simply by walking into a classroom.
"
One thing is for certain: student-led clubs will continue to showcase the vibrance of the Lakeside community.
Some of you probably knew all that already. However, we at the Tatler conducted an investigation into old Tatler archives, and found that student-led clubs have an intriguing past. For example, did you know that… 
Lakeside had an (in)famous rifle club?
One of the most prominent clubs in the 1930s—Lakeside's early days—was the rifle club. It was known for being one of the "most active and best equipped clubs in the Northwest"; well-performing members even had the opportunity to train with telescopic sights and "shoot the large bore rifles at Fort Lawton." A popular piece of Lakeside lore is that bullet holes from firing practice are still visible in the attic of Bliss.
Stud Gov once tried to crack down on club profiteering?
In 1940, Student Government solemnly passed a special amendment to their constitution, mandating that "all clubs be forbidden from engaging in money-making concessions at athletic contests." It is left to the reader to further investigate what mishaps could have necessitated this bill.
You could have won 350 Big Macs from the art club?
In 1944, Lakeside's newly-formed art club hosted an all-comprehensive art contest for the student body. Eligible art forms included but were not limited to "crayon, clay modeling, [and] architectural drawing." The prize? A whopping $50 in cash. If that doesn't sound like much, just remember that this was 1944: $50 could buy you about 350 McDonald's burgers.
A new constitution quickly died?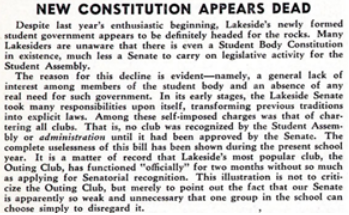 In 1946, the "Lakeside Senate" embarked on an ambitious mission to centralize power in the hands of the student government. Among their claimed powers was the full control over "construction and destruction of various Lakeside clubs." 
Wonder how that turned out? Barely a year later, the headline "New Constitution Appears Dead" tells it all. Not only were students wholly unaware of the existence of the constitution, but student-led clubs had been functioning for a couple of months without ever applying for Senate approval. 
Ping-pong is an ancient sport with "roots deeper than a deeply rooted monkey tree"?
If you've ever played on the ping-pong tables in the AAC, you should be thanking the now-defunct ping-pong club. Founded in 2002, the club obtained permission to install tables in the Fieldhouse with a generous ping-pong table donation from then-Service Learning Coordinator Vicki Weeks and a handy fix-up from "the maintenance guy, Mike." One of the club leaders, Aaron Bodansky '05, eloquently described their mission: "Through great ambition comes great achievement, manifested in our case in the form of ping pong, an ancient sport seeping into Lakeside, creating what will become a tradition to plant itself in antiquity with roots deeper than a deeply rooted monkey tree."
The number of clubs follows Moore's Law?
How many clubs were there in 2004? Here's the list; make sure to count with both your fingers and your toes: Amnesty International, Bike Club, Each One Reach One, Earth Corps, Junior Statesmen of America, Knitting Club, Knowledge Bowl, Lakeside Acafellas, Philosophy Club, Science Olympiad, Speech and Debate, and Students for a Free Tibet. By 2006, the total number of clubs had skyrocketed to 35, with 13 new clubs added in that year. At the most recent in-person Clubs Fair back in 2019, 58 clubs set out booths replete with glittery posters and delicious treats.
The 2021 Clubs Fair is just around the corner?
How will the club landscape look in 2021? Phillip M. Y. '22 says on behalf of Stud Gov that Clubs Fair is scheduled for October 7 and will be held entirely outdoors. Clubs will be permitted to lay out enticing treats at their booths. "Packaged food is more likely," says Phillip. Clubs will be entered into the club tracker app that debuted last year; there will also be a shared slide deck to contain club information for students' convenience. This year, Stud Gov is focusing on streamlining the club process by removing duplicate club applications, centralizing club logistics, and facilitating club communication. 
Although Stud Gov is still ironing out club-related details, one thing is for certain: student-led clubs will continue to showcase the vibrance of the Lakeside community. As Phillip cogently expresses: "Any club that can unite students around a shared passion is bound to be a success. Just stay away from cliff diving."
Leave a Comment