The 2021 Oscars: A Remarkable Waste of Time
While my family has never celebrated Easter, we adopted a different holiday at the same time of year: the Oscars. Less spiritual and profound, sure, but still a tradition that constituted our own form of celebration, one of cinema rather than religion. We'd spend the day preparing our Oscar-themed dishes (The Big Shortcake, A Star is Corn, and Bohemian Rhapsoda Bread were some of my favorites), decorating our house with a red carpet, and filling out ballots for who we thought would win. As we watched with all our friends packed into our TV room, at least for me, there was a feeling of excitement, the feeling that we were watching something significant and entertaining, that we were witnessing true artistry going down in the annals of movie history. 
This year's Oscars gave us something different, something sad and boring and empty, more aimless than Fern in "Nomadland", more confused than Anthony in "The Father", and more in need of a host than The Murray Franklin Show at the end of last year's "Joker". Ironically enough for a movie awards show, the Oscars most lacked a clear directorial vision—too stiff to be considered an intimate Oscars and too long to be an abbreviated ceremony (which would have been much appreciated), the 93rd Academy Awards felt muddled and unnecessary. 
This year's Oscars threw away all conventions, not in the slick way a rogue detective would in a crime thriller, but in a way that made me think maybe there is a reason for these rules. While cutting off celebrities' speeches with orchestral music can sometimes appear rude, it is quite evident to me now that it is a necessity. The producers ill-advisedly took out time limits on speeches, not only on prominent awards such as Best Actress or Best Director, but on all speeches. I appreciate the talent and hard work of sound mixers and editors, but do I really want to hear them ramble on about their inspiration for the levels of sound in a movie? Extending the speeches also meant cutting the performances, skits, and comedy bits—all the most entertaining segments—to compensate for time. The result was a ceremony that meandered from speech to speech, speckled with some entertaining and moving individual speeches, but was mostly flat and humorless. 
The tedium was accentuated by a contrived attempt at intimacy. In an effort to create a more personal, "story based" event, nominees were introduced by the presenter reading a paragraph about the origins of each of the nominees' love for film. While interesting in theory, the routine quickly grew tedious, as the presenter had to whip through five pre-written paragraphs as the nominees shifted in their seats and stared uncomfortably into the camera like middle schoolers at any social gathering. These stories also replaced the typical and essential accompaniment of the nominee introduction: a 10-second clip that highlights their work. If a picture is worth 1,000 words, then 10 seconds of film is worth 240,000 words—by my count quite a bit more than the snippets that introduced the nominees this year. It was a simple replacement, but one that made me question the purpose of the ceremony. Especially in a year when, according to the BBC, the nominated films were less viewed than normal due to the pandemic, the ceremony needed to remind us of its relevance, the films at the center of this tradition. The nominees' artistry was a faint whisper, lost in the process of trying to appear earnest and heartfelt.
In another attempt to shake up the Oscars formula, the producers changed the order of awards. Instead of the normal sequencing, starting with Best Supporting Actor, ending with Best Picture, the ceremony commenced with Best Original and Adapted Screenplay—not nearly exciting enough of an award to hook potential viewers. From there, the show stumbled along until petering out like an old car. The awards ended with Best Actor, won by Anthony Hopkins, who was unavailable to give a speech. There was no satisfaction of seeing Chadwick Boseman posthumously receive the award for Best Actor or the usual final imagery of seeing those involved with the Best Picture winner flood the stage; it was an unfulfilling end to an unfulfilling night.
Despite its many problems, the 93rd Oscars showed some progress in regards to BIPOC representation. A notoriously white institution, the Academy deservedly received heavy scrutiny in the past few years for their failure to equitably nominate people of color, like in 2015 and 2016, when no people of color were nominated for any acting award. This year, the Academy clearly tried to address those criticisms. Regina King opened the evening with a powerful speech in which she addressed the Derek Chauvin trial and the Black Lives Matter movement, saying, "I know many of you want to reach for your remote when you feel Hollywood is preaching to you, but as the mother of a Black son who fears for his safety, no fame or fortune changes that." Chloé Zhao made history as the first woman of color to win Best Director. Movies about black history, like "Judas and the Black Messiah" and "One Night in Miami", received numerous nominations. Hopefully, an equitable Oscars will not be a one-time event.
Diving 58% in viewership from last year's already record-low ceremony, this year's Oscars marks the downward trend in the popularity of award shows. In part, this comparatively tiny audience of 9.85 million can be attributed to the long, monotonous, trite ceremony. Like the rest of the nation, few Lakesiders tuned into the three-hour-slog; merely 14 of 73 (19%) surveyed Lakesiders watched the Oscars this year. But this record-low viewership has been a long time coming and signals a more worrying problem for the Oscars: the changing ways of movie and media consumption. Even before the pandemic, when movie theaters shut down and production was halted, the movie theater industry was in steady decline, with revenue decreasing in recent years according to "Business Insider." Streaming services like Netflix and HBO have siphoned off viewers from going to the theaters, with viewers opting for more accessible forms of entertainment. Only 17 of 75 (22%) surveyed Lakeside students marked going to the theaters as their favorite source of entertainment, with Tik Tok, social media, and Netflix all being chosen more frequently, mirroring the nationwide trend. Amidst the overabundance of accessible and quick entertainment, the communal experience of watching the year's best pictures in theaters is becoming scarcer. With movie watching becoming more of a pastime and less of an event, the Oscars feels irrelevant and antiquated.
The Oscars has always validated my feeling that our society appreciates and thinks about the media we consume. That's the necessity of the Oscars to me—it ensures we actively think about the films we watch, that the movie industry's role is not to churn out mindless videos at a rapid pace for profit, but instead to create thought-provoking works of art. As a movie lover, I still cling to this idea, but the 93rd Academy Awards has forced me to reconsider.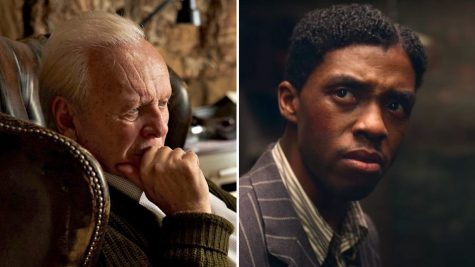 Leave a Comment