Literary Honorary, Wary Commissary Pair to Build Centenary Library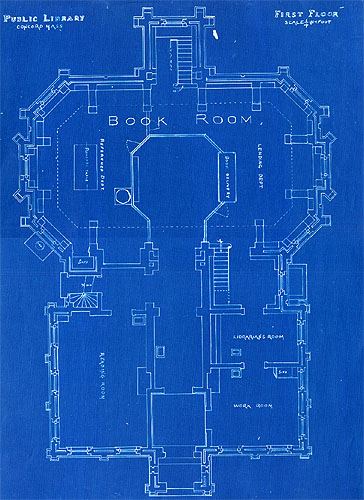 At the opening ceremony ensued lively repartee as Lucille Remy and Henri Marquis unveiled the new Cherry Library, in honor of Lakeside's centenary. The project was a collaborative effort between Remy '90, Nebel Laureate and author of Barley Autocracy and Barney: A Biography, and commissary Marquis '93, hired by Lakeside to oversee the project.
Among its menagerie of architectural features, the library is made primarily of cherry wood, giving it a distinctive reddish tone. Remy, who notes that her first name, Lucille, is pronounced "Loo-see" to fit with the rhyme scheme, not "Loose-seal," said that its design is "revolutionary: functionary, light and airy; foreign dignitaries might even come to see, oui?" Indeed, the library has been praised for its airy architecture and delicate topiary art. A feature of its design is the Vocabulary Room, a large space stocked with dictionaries. "Kids can go to study vocabulary and have thoughtful commentary," Remy said. She adds that there is even a rhyming dictionary, but it is in use at this time.
It was not so long ago that this project was just imaginary. Marquis, who oversaw the budgeting, design, and construction of the library, was initially contrary to Remy's artistic vision. "Is all the cherry wood necessary? The monetary requirements are my primary concern for the library." Despite being wary, he sent many letters on Blueberry Fairy Stationery™ to design firms and institutions, seeking help in development and funding. 
Marquis eventually got local firm Terry & Kerry to draft preliminary designs. Conferencing weekly, they were able to finish designs in February 2020. Contemporary Prairie Construction then built the library. Marquis was able to procure funding for the project from Estuary Capital's subsidiary Tributary Capital.
Remy did, however, note difficulty in hiring ancillaries. The library needed staff for its apothecary, as well as its planetary. The library also needed a secretary to organize the dictionaries. "I asked each fiduciary [on the board] and Mr. Jerry [in the administration] almost daily," she said. "They said an executive secretary was unnecessary, and my tactics had to vary if I was to support my library."
So she rode the Whidbey Ferry to meet with the Washington state undersecretary. She asked for discretionary school funds, and the undersecretary was quick to agree. The project came together expeditiously, and the library was soon ready for the opening ceremony.
The project has marked a merry anniversary for Lakeside, and Remy and Marquis stress that "the children will be the beneficiaries." With the library, Remy wanted to give back to Lakeside for her education in literature. She said, "I am happy to see that every construction fee went towards helping kids grow their vocabulary."
Leave a Comment
About the Contributor
Aaron Z. '23, Editor in Chief
From A to Z, AZ's got it all. Especially existential boredom. Recently, Aaron cried while listening to Wagner's "Tannhäuser" on YouTube, the most he's...