Tatler Guest Speaker: Barry Wong
In the presentation Barry Wong gave the Tatler class early on Monday morning, he walked us through his transformation from an unskilled photography student at Syracuse University to a cocky rookie shooting for The Seattle Times to a seasoned photojournalist covering Seattle's — and the country's — biggest stories. During his career, Mr. Wong has had his work exhibited in Washington D.C., at the Seattle Center, and at the Wing Luke Asian history museum. He has also won prizes for the International Photography Awards and the Pictures of the Year Competition, and has even been a Pulitzer Prize finalist for team news photography.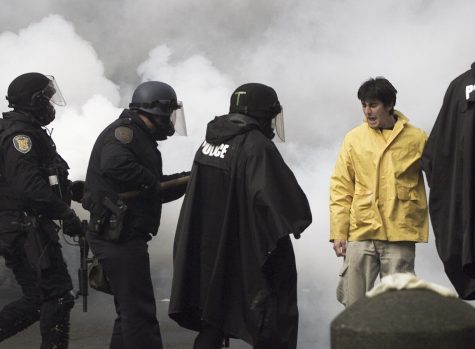 Mr. Wong opened by explaining how, when he first started out as a photographer in high school, he was just like we Tatlerites are — lacking extensive experience or professional skill, but passionate. From there, Mr. Wong told us about his two most dangerous assignments. First, he described covering the 1999 WTO protests in Seattle, showing us his shots of SPD officers pointing guns at crowds, protesters being handcuffed while pinned to the ground, and a striking image of a distressed man screaming at police. He described the other close encounter as when "Mother Nature was trying to kill [him]": the eruption of Mount St. Helens back in 1980. Despite being new to the Seattle Times staff, Mr. Wong was tapped to cover the momentous event. He rushed to the eruption site in order to document the unfolding event and its destruction, and then had to race to transport his film back to the presses in time to break the news.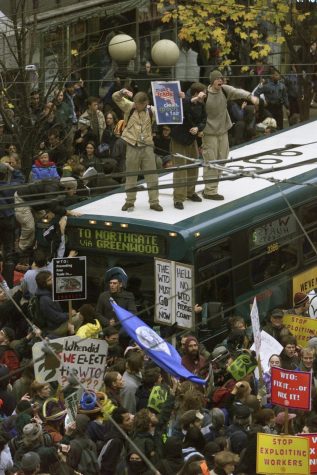 After sharing some other anecdotes from his 27-year career, Mr. Wong spoke about the broader art of photojournalism, covering essential topics like the importance of getting a story across, how to pair photos with text, and the role that light can play in creating an image. He also walked us through the different types of photography that he's worked with over the years — street photography of simple, yet beautiful, life; portraiture of both famous individuals and everyday people; and historic, once-in-a-lifetime documentary shots. Finally, he gave advice for rookie photographers: "Go out with your phone."
Now, having moved on from photojournalism to teach photography in the Pigott Family Arts Center, Mr. Wong uses his expertise to educate and inspire Lakeside's students. With such a wealth of knowledge and experience to draw from, it's clear why Mr. Wong is so well appreciated at Lakeside.
Leave a Comment