Shakespearean Rom-Coms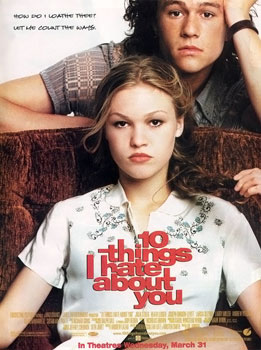 The Bard is known as the founder of rom-coms, but I must admit that his humor is many times outdated and taketh a lot of brain power. Many of Shakespeare's plays consisted of lovers and their quarrels, and his founding of the romantic comedy is credited in many of today's teenage rom-coms. Here are three of the most Shakespearean rom-coms—while they're not all critically acclaimed or objectively astounding, they're perfect for a night in of silly puppy love.
"10 Things I Hate About You"
"10 Things I Hate About You" is perhaps one of the most beloved romantic comedies, and its premise is based around Shakespeare's "Taming of the Shrew." The story starts with Kat Stratford, said "shrew", and her little sister Bianca. Like in Shakespeare's original, main character Kat is uninterested in love and refuses to date one of the slimeballs that attends her high school in Seattle. Because of this, her sister is also barred from dating by their strict and concerned father. With those guidelines, a bet begins: Kat must start dating for Bianca to go out with the many people who want to be with her, and it's just a matter of who can set Kat up. The emotional toil of starting a romantic comedy with a bet is a classic, and I can only love this film more as I highly resonate with Kat—after all, she is a shrew from Seattle.
"She's the Man"
"She's the Man," by Andy Fickman, is a classic 2000s romantic comedy, and its basic plot is very similar to the Bard's "Twelfth Night." Well, similar if "Twelfth Night" had cell phones, flawed-but-2006-feminism, and Channing Tatum. Viola Johnson, played by Amanda Bynes, decides to impersonate her brother at his boarding school when she is not allowed to join the boys' soccer team after the girls' team is cut and soon falls in love with her roommate (who thinks she's a man) while her roommate's crush falls in love with her (dressed as a man)—and this isn't all the falling in love that happens. "She's the Man" is incredibly confusing in terms of who likes whom, but the misunderstandings of the film make it all the more Shakespearean!
"Get Over It"
"Get Over It," adapted from "A Midsummer Night's Dream," includes not only a high school production of the Shakespeare play the movie is based on, but also Sisqo, the singer of "Thong Song," as one of the main characters. "Get Over It" once again shows a Shakespeare story about love and misunderstandings in a high school setting—except this time, director Tommy O'Haver shows main character Berke Landers imagining his life as a "A Midsummer Night's Dream." Berke pictures himself to be Lysander and his conflicting love interests as Hermia and Helena consistently throughout the movie. Every character in this romantic comedy is falling in love with the "wrong" people, just like the characters in its predecessor, but this version has Carmen Electra in the credits. "Get Over It" is a perfect mix of Shakespeare and "High School Musical," and you don't want to miss Kirsten Dunst's singing and Coolio's short mid-interview cameo.
Perhaps Shakespeare would find each of these movies ridiculous; on the other hand, he did create a character with a donkey head that hangs out with fairies in the woods. Shakespeare is involved in every part of our lives, and his influence is seen particularly in today's movies. In fact, Shakespeare is the basis for many more romance films, such as "O" and "My Own Private Idaho," but this month, I focused strictly on lighthearted comedies made with the intent for laughter, just as Shakespeare did with many of his own plays. Sorryeth!
Leave a Comment