Former Lakeside Teacher Working for the Seattle Kraken
Throughout Seattle's history, hockey has always been a crucial part of the city's vibrant culture, starting in 1915 with the Seattle Metropolitans, Stanley Cup winners, and continuing with the Western Hockey League's Seattle Totems. However, since 1974 and the dissolution of the WHL, a hockey team has yet to call Seattle it's home — that is until now. In 2017 and 2018, a movement began that would culminate in the NHL approving an expansion team for Seattle. The new team, named the Kraken, will play at the newly renamed "Climate Pledge Arena" in downtown Seattle, aiming to start during the 2021-2022 season. In a stroke of fate, Lakeside actually has connections with this new hockey team. Former Lakeside history teacher Kyle Boyd is now Director of Youth and Community Development for the Kraken. I recently got the chance to speak with Mr. Boyd (over Zoom of course) and have an enlightening conversation about Hockey and diversity. 
From a young age, Mr. Boyd had always been surrounded by the game of hockey. Some of his earliest memories revolve around the rink, whether it be learning to skate forward, skate backwards, or other advanced techniques. He embraced the challenge, and after every milestone there was always something more to achieve.Some crucial life lessons, like setting goals and perseverance, he recalls, were learned from his love of hockey. Furthermore, growing up, hockey was a way for him to meet new people, and once he became an educator, it was a way to connect with younger students. 
In 2018, Mr. Boyd came to Lakeside as a history teacher, teaching sections of H100, H200 and H300, while also leading an advisory. One day, while skating for fun at a rink in Renton, he started chatting with another man. They talked about hockey, youth involvement, and strategies for growing the game. The man was helping to bring hockey to Seattle, he'd told Mr. Boyd, and he wanted to meet at a coffee shop to talk more. Mr. Boyd agreed but thought very little of the encounter. Well, it turns out that man was Todd Leiweke, former CEO of both the Seahawks and the Sounders as well as President and CEO of the Seattle Kraken. 
During their initial cup of coffee conversation, and the many conversations thereafter, they discussed topics surrounding diversity and youth engagement. This would lead to the creation of a special role for Mr. Boyd, Director of Youth and Community Development. So what exactly did this job entail? He puts it this way: "Anything that the team will do with youth and young people or out in the community… I'm a big part of those initiatives. Here in Seattle we don't have a ton of youth playing hockey, so part of the job is to figure out how we engage young people with the sport or even introduce them to the sport." He mentions that this could take the form of playing floor hockey in P.E. or setting up after school programs. Another factor he mentions is actually located quite close to Lakeside. The Kraken's three-rink practice facility, being built at Northgate mall, will be open for the public whenever the team isn't practicing. The hope is that access to ice rinks, which can be a barrier to entry, will be made available for everyone.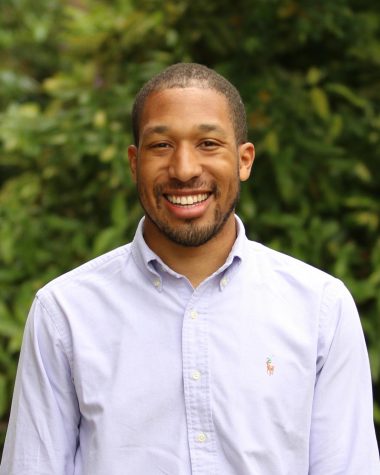 Relating to the concept of barriers of entry, Mr. Boyd and I talked a lot about diversity in hockey. Hockey is often labeled a "white" sport and for good reasons: in 2011, around 93% of NHL players identified as white. So why is this the case? It's not like white people are born better at hockey. The problem lies with barriers of entry. Hockey is a sport that requires lots of external equipment and access, everything from skates to sticks to ice rinks. Many people of color don't have or aren't given access to these opportunities, and even those who do don't get involved or attached to the game. In Mr. Boyd's role, as he and the Kraken introduce hockey to communities around the Seattle area, more children will learn about and get access to a "hockey education." The hope is that programs will lower barriers of entry, promoting diversity in the NHL. As to why diversity is important, Mr. Boyd brought up a few interesting points: "From a pure dollars and cents perspective, you want to have as many customers as you can that are invested in your sport. That's what makes for a very successful, globalized sport. If you look at a sport like soccer, and you have the English Premier League or other leagues in Europe, so much of that is built on soccer's global presence…. Having diverse athletes means a broader global reach." He also mentioned how as barriers to entry lower, hockey gains talented players who otherwise would not have been discovered. Of course these are only some of the endless reasons for diversity in hockey, and in general. As the Kraken get closer and closer to their first face-off, Mr. Boyd will be working to improve community engagement and lower barriers to entry.
Now, going from being a history teacher to being in a leadership position at a hockey team does seem like a large jump, but for Mr. Boyd it wasn't as different as it seems. Starting his teaching career at a program called Teach for America, the large part of his work was building relationships. Working in underprivileged communities, besides teaching content, his job revolved around getting to know students and their families. Thus he is perfectly suited for his new job and ready to make an impact on the Seattle area. It's cool to see members of the Lakeside community, like Mr. Boyd, out in the world making a difference. In the lead-up to the Kraken's inaugural game, look out for some exciting youth initiatives in the news. And, who knows, maybe if the Kraken have one too many injuries, we could see Mr. Boyd on the ice as well. 
Leave a Comment