Sports Update: Cross Country and Crew Carry On in COVID
Like many other activities, in-person sports at Lakeside have had to be canceled due to the pandemic. Social distancing measures, mask mandates, and high rates of infection have simply made safe team practices on the field nearly impossible.
Yet while someteams have resorted to the occasional email or Zoom meeting to communicate with their members, two sports — cross country and crew — have created special programs for athletes at home. Since September 28, the day that the WIAA "Open Season" began, these teams have conducted remote workouts, encouraged asynchronous exercise, and connected members through weekly check-ins. The experience is akin to typical summer practices: somewhat difficult, team-focused, and a whole lot of fun. 
Below, read a complete rundown of what the teams have been doing so far!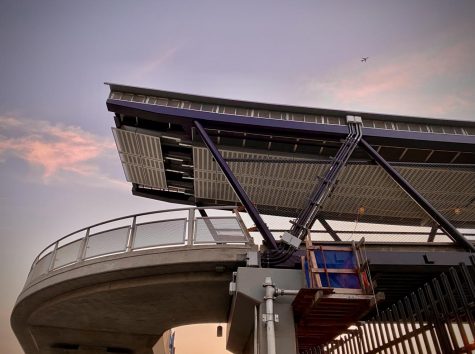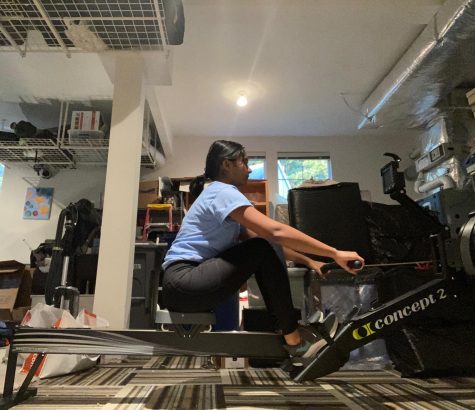 Cross Country Is—What Else?—Crossing the Country
To get athletes ready for the long distances required by races, cross country coaches have initiated a new program at Lakeside called Run Across America (RAA). The idea of RAA is simple: over the eight-week span of the practice season, the team must run from Seattle to New York City, an incredible distance of around 3,000 miles. 
Normally, training would occur in summer and be immediately followed by the competitive season at the beginning of the school year. But because of the modified WIAA season calendar, practices now happen in the fall with races taking place in spring. 
This change in schedule has allowed runners to focus on different aspects of cross country besides typical 5k or 10k distances. As head running coach Sally Revere puts it, "The fact that we are not leading into a competitive running season allows us to do more distance running and make this time something different than it has been before."
Run Across America also incorporates a few activities for participants aside from the Seattle-to-NYC mileage goal. For example, athletes are given a new 'scavenger hunt' item to look for on their runs every week. Runners with the most items found are congratulated at the remote Friday check-ins over Zoom, where the team is allowed to socialize or ask questions about their injuries and personal concerns. 
Additionally, athletes are invited to participate in guided workouts on Tuesdays. New coaches lead these exercises every week, each bringing different strategies on how to improve endurance or recover from a hard run. If participants want to challenge themselves further, they can complete special runs on Thursdays, which focus on either elevation or speed (depending on whether the team is currently traversing a mountain range or flat land)!
In the words of Sally Revere, these activities are intended to challenge runners "physically and mentally" while building an "atmosphere of supportive encouragement" in the cross country group. Though running from coast to coast is the written goal of Run Across America, the coaches hope to use this program to help individual runners improve and develop a team spirit among the athletes.
As of October 30, there are 34 athletes in Run Across America, including runners from the cross country roster and a few other Lakeside sports. Together, they have collectively run more than 2,000 miles.
Boys and Girls Crew: Racing Virtually, Without Water
While cross country runners can easily train on their own (with the right pair of shoes, of course), members of crew typically need access to equipment not available at home. Thus, the coaches of girls and boys crew have had to find ways to keep their athletes in shape, without the use of boats or water.
One of the ways they have done this is by providing a list of training sessions that athletes can complete every week. In-person practices are usually very targeted in regards to what the team works on together, but as girls crew coach Briana Schulte says, training remotely calls for greater flexibility: "the athletes may have so many other expectations/obligations and demands on their time and energy…. So, some athletes do all of the training sessions, some may only have time for 1-3 training sessions a week, and that is all okay given our uniquely challenging circumstances." 
The crew teams also hold several meetings on Zoom throughout the week. Most are focused on technical learning—how to stroke correctly, how to be a good athlete and team member, how to take care of oneself, and other topics. 
One meeting a week, however, is devoted to a virtual race between rowers.
Using their at-home rowing machines, or "ergs," the athletes participate in a competition of speed over Zoom. Every race, rowers must push themselves to complete a specified distance while giving encouragement to their peers. After meeting their distance goal, each participant submits their results to the coaches, and the individuals and squads with the best times win! 
What about the students who don't have an erg? Says Briana Schulte, "We have been really fortunate at Lakeside to be able to provide rowing machines to all of the rowing-athletes on our team…. The Athletics Department and administration really came through so that we could add rowing machines to our inventory this fall." 
Another big part of the remote program is building a team atmosphere, which coaches have made sure to include. On Zoom calls, athletes are encouraged to chat informally and engage in a 'Vent-Share-Validate," an activity where rowers can vent about their lives, share personal successes and obstacles, and validate each other's experiences.
Conclusion:
As the US hits new records of daily coronavirus cases, it seems more and more unlikely that students will return to school (and sports will resume) in the near future. Still, coaches have been working hard to ensure that teams can train safely, if and when Lakeside transitions to a hybrid model. On the subject of preparation, the Athletics Department head Chris Hartley told me, "All of the head coaches and program heads have met regularly since August to create plans for in-person practices. Those plans have changed significantly over time due to the change in guidelines from the Governor's office and the WIAA."
Through their remote programs, cross country and crew have made a special effort to provide athletes a way to keep fit and meet with new people, opportunities that are few and far between in the age of coronavirus. They provide a model for what other Lakeside sports can do in the coming months, as the pandemic continues and (hopefully, optimistically, eventually?) comes to an end.
To their athletes, the coaches of both teams have only words of encouragement and praise. "We've really enjoyed the enthusiasm the RAA team has shown towards the program, as well as towards each other," says Revere on the dedication of the cross country runners. Meanwhile, when asked about her rowers, girls crew's coach Schulte said this:
"These are certainly challenging times. The variety and range of each athlete's experience—all that everyone is juggling and coping with—is astounding to me…. Training on your own, in your garage or basement or wherever and without a tangible reason to train like an impending race is a whole different level of hard. Add to that the demands of family life, school, the college process, world uncertainty, etc…. Again, I am just impressed every day by the athletes on our squad."
Leave a Comment
About the Contributor
Minoo J. '24, Marketing Director
Hailing from Columbia, Missouri, Minoo is defined by his passion for playing the oboe and writing journalistic prose. With Hugo, his 9-year-old cockapoo,...