Athlete Alumni Spotlight: Wallis Lapsley '15
Growing up, many of us have dreams of becoming professional athletes. Whether it's from watching legends like Michael Phelps or superstars like Stephen Curry (so inspirational, man!), everyone has wanted to become a pro. However, as most of us grow older, these dreams start to go away. To actually make it to the top is an extremely impressive feat. 
I spoke to Wallis Lapsley '15, a Lakeside alum who was recently drafted in the second round of the MLS draft (Major League Soccer) by the New York Red Bulls. 
Before he graduated Lakeside, Wallis played two sports, basketball and soccer. In fact, some of his most fond memories come not from the latter, but the former: "My freshman year I played on the JVC basketball team, and due to a couple of injuries, we only had five guys able to play for our first game. We ended up losing by one point in that game, but I'll always remember the experience, mostly how tired I was at the end. Abe Wehmiller, the Athletics Director at the time, called us the 'Iron Five.'" Another one of his favorite memories comes from the basketball team senior year, when the team had to travel all the way to Spokane. In a hostile environment filled with fans of the opposing team, "myself and teammate Jonah Walker (a member of the "Iron Five"), were tasked with guarding one of the best players on the other team," Wallis reminisced, "As a result we both fouled out with over four minutes left in the game, but fortunately our teammates were able to finish the deal, and we ended up winning and getting to play in the State Tournament at the Tacoma Dome." As for soccer, his favorite moment is of course winning the State Championship in 2014, the first time in Lakeside history. Wallis says that it felt like almost the entire school was out to support them that day. 
After graduating from Lakeside, Wallis went on to play goalkeeper for a D1 team at UC Davis. "Athletics were a great way to meet new people and make new friends, especially at a big school like UC Davis with close to 40,000 undergraduates," Wallis remarked. "Some of my closest friends I made were teammates, or other athletes who I met in the training room or in the weight room." 
Finally, Wallis was drafted into the MLS this past year. "To be honest the fact is still kind of sinking in," he said. "I wake up every day and am reminded of how lucky I am to get to keep playing soccer as well as get paid to do it." The season, almost ten months, is much longer than both high school and college, and the level of talent and competition is obviously higher. For Wallis it's both the mental and physical aspects of playing professional sports so appealing: "It is a unique profession that allows you to push yourself physically and mentally every day, so I certainly don't take it for granted."
When asked about any advice he would give to aspiring young athletes, Wallis had some key knowledge to pass on: "I think the biggest thing is understanding that you have to sacrifice in a lot of different ways to make it happen," he noted. "You have to be really clear about your goals and what you need to prioritize in order to achieve them. I think that it is easy to say you want to do something, but it is actually a lot harder to go out and do the work required. Being honest with yourself about what you want and what you're actually willing to do to achieve it."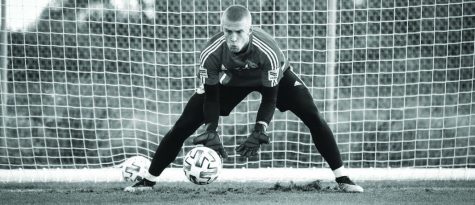 Leave a Comment