Tatler Guest Speaker: Frank Blethen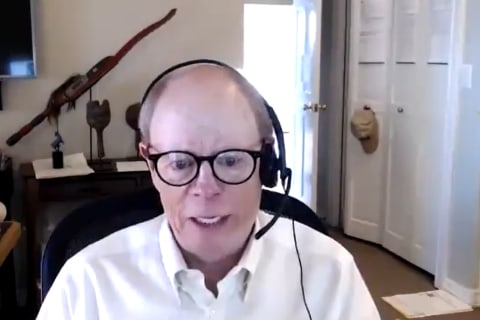 At the end of September, Frank Blethen, the publisher of the Seattle Times, spoke over Zoom to members of the Tatler newspaper about the Seattle Times's Save the Free Press Initiative. As a fourth-generation member of the Blethen family, owners of the Seattle Times, Blethen has devoted more than 35 years of his post-college work life to supporting the Seattle community through publishing local journalism. He has helped lead the Times to ten Pulitzer Prizes and has been awarded the Northwest Journalist of Color Diversity Award and the Asian American Journalist Association's Leadership in Diversity Award. It was an honor and an inspirational experience to have him talking directly to us.
In his talk, Blethen explained the paramount importance of the local newspaper. More than 200 years ago, our founding fathers explicitly set up protection and subsidies for local newspapers for a variety of reasons, especially to promote public education and political literacy for average citizens. Blethen believes that our free press system is in great danger of being taken over by profit-driven companies and dwarfed in popularity by misinformed and opinion-driven social media. In the past 20 years, he has seen many local newspapers die off or devolve into "ghost newspapers" with little to no local content, a highly worrisome trend.
Local newspapers — often a lone source of reporting on news of local importance and interest — are critical for the well-being of a functioning democracy. Blethen said inequity and civil strife will worsen if the press continues to decline. Conversely, research has shown that strong and thriving local newspapers are correlated with higher voting turnout and lower tax rates. Blethen emphasizes that, in order for citizens to be informed and able to influence the decisions that affect their daily lives, "people have to be connected to the local community." He called out digital giants such as Google and Facebook for promoting just the opposite. Media platforms should be serving our community needs, he told us, rather than controlling the internet for profit.
As a staff writer for the Tatler, I often ask myself how to write interesting and objective news within Lakeside, and how the world is affecting our students and teachers. However, Blethen's talk opened up a new perspective. As high school students, we can take on more challenges, finding innovative ways to support our local newspapers and contribute to our community. Having platforms of free speech is critical to the quintessential American education.
When asked if he had advice for those of us interested in student journalism, Blethen gave a straightforward answer: just go for it. We are the social-media generation, he said, and we should educate ourselves and use our voices to help preserve the free press and local newspapers. Especially in these politically charged times, we should make sure to learn media literacy and reflect on how we consume — and who provides — the news we depend on. Advocating for an educated and informed local community is of paramount importance for us all.
Leave a Comment