The Man, The Myth, The Legend: The Origins of Yos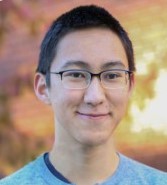 When we think of the senior class and the legacy they will leave behind some may think of their performance of Mama Mia or the number of expulsions they have suffered, but their real legacy lies in their way with words. More specifically, one word: "yos." 
Now you may be thinking, isn't Yos a person? The answer is yes. Over the years, he and his name have become an icon and slang term for the senior class. In an effort to learn more about what is possibly Lakeside's most famous slang term and most common response to questions in the Tatler poll, we set up a zoom call with seniors Leo S., Will H., and the man himself, Yos W.
According to the trio, the evolution of yos began when they were mere 5th graders down the road at LS Middle School. "I remember discovering that his name was Yoshia in the fifth grade. That was just pretty big news for us, and we kinda just rolled with that for the rest of middle school," said Leo. Flash forward to eighth grade PE and yoshia was getting more traction than ever before. "Yoshia was like a thing in our eighth grade PE class, and we would just talk about it and then it just morphed into yos," described Yos, who then went on to say, "There was no specific starting time. there was just a big group in the locker room, and we started chanting it." Leo added that "It just felt right." While many might feel a bit uncomfortable hearing their name shouted across the hallways, Yos, on the other hand, thought it was just "freak'n hilarious" and mentioned that because the evolution was over so many years, he never really noticed a major switch.
But what's the actual meaning of the word yos? Yos explained that "It can be any part of speech. A noun, a verb. If you yos a test, you flunked it. It's a placeholder word." When we asked if they thought the word would have gotten this big in another grade level, Yos said no "It's 100 percent our grade… There's just a good culture with our class. We are pretty close." Their unique way of speaking has been a way for their class to bond. Leo went on to say that yos isn't the only invented word in their vocab: herb ("they're such a herb"), zorb, and guac (as in holy guacamole) are also all used regularly. As to the circulation of their vocab, the boys estimate that at least half of the senior class use them. We were shocked to hear that they've even extended outside of Lakeside, to schools like Newport High in Bellevue. Although his fame has grown past Lakeside, his older sister Elena, a former Lakesider who was commonly referred to as "Elder Yos", is his only family member aware of the phenomenon. His parents have remained out of the loop except for the occasional mention of their son's name in the Tatler Yos brings home. Yos emphasized that, even if they were aware, "We can do whatever we want. We're teenagers." 
Finally, we asked about their plans for the future, and whether, at college, they plan to spread yos and all its glory. "It's got to be natural," Leo emphasized, "We're gonna have to go through the phase of people thinking we're weird, and then it just catches on like it did here." It became obvious that the boys are taking it pretty seriously when Yos explained that he and Roman S '20 (another member of their group) are both going to college in Boston and that Leo and Will are going to be in LA. "We got two pretty major student cities already locked down." Leo's final piece of advice can be applied to pretty much anything, not just starting your own slang: "The key is confidence." And although they don't have any plans to keep it going at Lakeside, our hope is that people will continue to enter yos in the Tatler Poll for years to come.
Leave a Comment