The Tatler Interview: General John Kelly
The Tatler Interview: General John F. Kelly
After speaking at assembly and to the American Studies class, General John F. Kelly sat with Lily R. '20 and Kanishka R. '20 for an interview.
What was it really like in the Trump White House? What has the media got right and wrong?
The first six months were pretty chaotic. I had to get rid of a couple of people who were uncooperative. Later, there was rhyme and reason, organization, process. In retrospect, I wish I could've stayed longer, but it was bone-crushing.
When you were named White House Chief of Staff, some media reports called you the "adult in the room." What do you think about the statement?
The job of the chief of staff is to make sure that the principal, which in this case is the president, has all the things they need in front of them. And as a General officer, I've had chiefs of staffs and they have the same responsibility. There are things you have to manage that the president never sees, that he'll never know about. Being the adult in the room is an inherent part of being a chief of staff. But his decisions impact all Americans, it's his job to try to do the best for the country.
The theme of your visit is "Governance vs. Politics." Do you think you were at promoting governance over politics when you were at the White House, and can others in Washington be successful at it?
Yes and no. Until very recently, before the House went to the Democrats, Nancy Pelosi was left-leaning. Now she's more in the middle, and as speaker she did the best she could to control the far left. She's a person who wants to do the right thing. She wants to move certain things forward, health care, lower drug costs, infrastructure—to get going on all that stuff. It's hard for because members of her party refuse to work with him. Come on, be a bigger man, woman, issues are too important. 
How can we repair this lack of cooperation between parties?
Whenever we get a new president. It will take a different president to repair the divide between the parties. Both parties have a responsibility to try and work together and move forward.
You also served as a general under President Obama. How does that experience compare to serving under Trump?
Obama's strength was community organizing, not military operations. But he worked hard to understand things he didn't understand. He surrounded himself with a lot of really bright people who knew the issues, which made the ball game easier to play.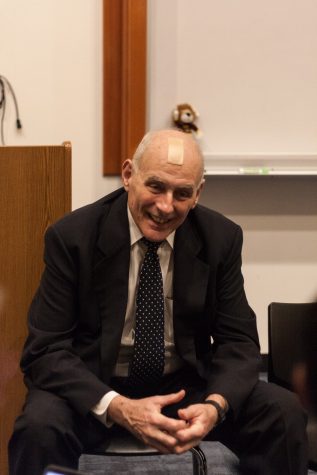 Leave a Comment