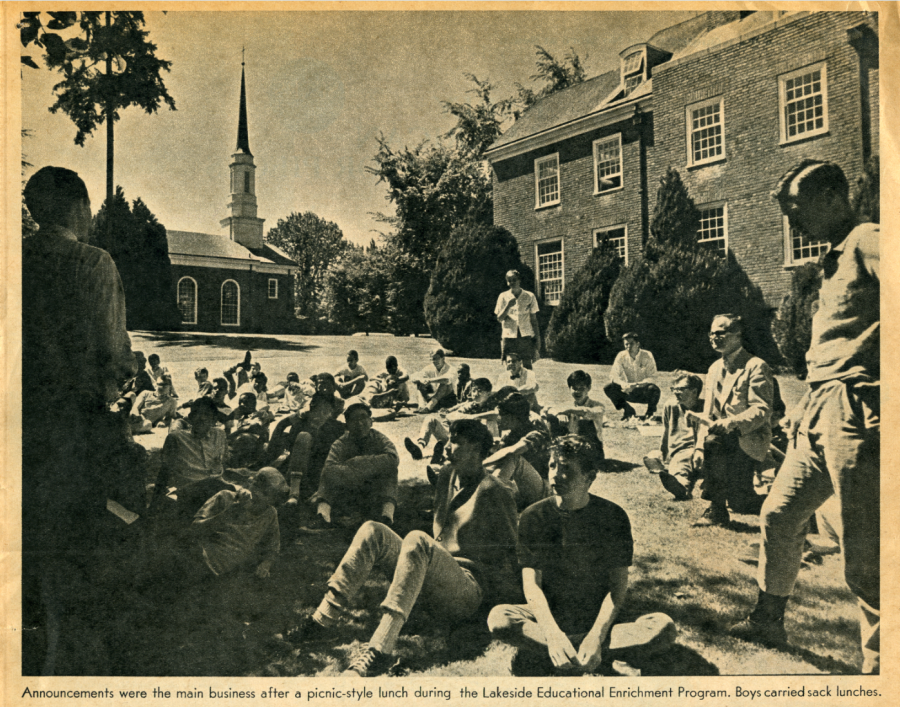 Growing up, I was blissfully unaware of all the active racism going on in our country. Instead of experiencing explicit racism, I was subject to normalized microaggressions as a young Black girl: hands randomly reaching out to touch my puffy hair; people turning to me to ask what my mother or grandma, who both have accents, had just said; adults all around me joking about mispronouncing my biblical first and last names. Coming into Lakeside, not only have I noticed a lack of these microaggressions, but I've seen an active campaign against them that educates students on what they are and how to avoid unknowingly using them. The increasingly inclusive environment at Lakeside is a sharp contrast to the Lakeside of years past, which shows how helpful learning from the past and acting accordingly has been. But this doesn't mean we're perfect; there's still much more to do.
Black people have a complicated history at Lakeside. In 1965, the same year the Voting Rights Act was passed, the Lakeside Educational Enrichment Program, or LEEP, was introduced, creating an opportunity for the first three Black students to attend Lakeside. After graduating, one of those students, T. J. Vassar '68, later led LEEP,  returning to Lakeside as part of the faculty. Though LEEP introduced the first black students, Lakeside was still a heavily discriminatory environment for students of color, leading to many aggressions and harassments towards Black students during the following years.
Lora Ellen McKinney '73 experienced this firsthand as Lakeside's first Black female graduate. As she sat in the St. Nick library one day, a girl came behind her and repeatedly whispered the N-word in her ear, refusing to stop. Even a teacher rapped her on the knuckles for "bad manners," she recalls, and made her sit on her hands during class for "gesturing too enthusiastically when she spoke." Paul Johnson '84, who graduated almost 20 years after the first Black students at Lakeside, knew that, because of his Black identity, his peers recognized him for his athleticism rather than his character. It was obvious that more people of color wasn't the solution when they were met with these acts of racial discrimination as soon as they stepped onto school grounds. Lakeside had to become a more inclusive community, on both a structural and individual level, to ensure that all students of color felt safe in their own skin.
And over the years, it did. Starting in 1988, the Middle School head, Harry Finks, brought Bob Henry, a Lakeside history teacher, onto a project that worked towards not only diversifying the student body, but empowering it. They enrolled more students of color and created a global curriculum that took everyone's experiences into consideration by moving away from the Western lens that is much too dominating over other voices in historical texts. They also hired more faculty of color and extended the financial aid program, so that the school's resources could reach more students, no matter their social status. The Brotherhood-Sisterhood affinity group continued to grow as a precursor to the Black Student Union. 
These early efforts have paid off in the Lakeside of today. There is a core group in the administration dedicated to diversity and inclusion, composed of Debbie Bensadon, Kyle Cook, Merissa Reed, Latasia Lanier, and Yvette Avila. Their work has included arranging peer facilitation and retreats that promote student-led discussions centered around race and providing faculty with ongoing diversity and inclusion training. The upcoming head of school, Ky Bynum, is a Black man with extensive background in equity work. Though these are great strides forward, there's still much work to do. Ten percent of the student body identifies as African American, and only 4 out of the 143 students in the class of 2020 were Black.
Upper school director, Felicia Wilks, has a few suggestions on how to make Lakeside more inclusive for Black students: "What I want is for people to take a step back and be open to what is being shared and get curious enough to say, 'I want to know more,' and to be committed enough to demand that there are opportunities to learn about this all year." One great resource to start with is the TMI Project's Black Stories Matter, which, according to the website, "provides workshops where Black folks can write about, share, and reflect upon their experiences without having to justify, explain, or defend the truth of their lived experiences. The culminating content… is accessible to an all-inclusive audience." 
Ms. Wilks also shares that she wants "Black students, who aren't in huge numbers at our school, to feel seen, feel respected, feel celebrated, and feel like their culture is visible in the school…" Ms. Wilks believes that the appreciation of Black history and culture shouldn't end as soon as February does. "I don't want [Black students] to leave February feeling like, 'Well, I have to wait until next year before we have these conversations or see these presentations again.'"
When we see stories of racial injustice from all over the world, it can be hard to know where to start to combat such a huge and seemingly helpless problem. Black History Month exists for this reason; take advantage of this great opportunity to learn about the history of the Black community and to find ways to help, no matter how you're able to do so. This is a huge responsibility that we all must actively embrace; everyone deserves equal resources and to have their story told. As Ms. Wilks said, "Black history is American history."