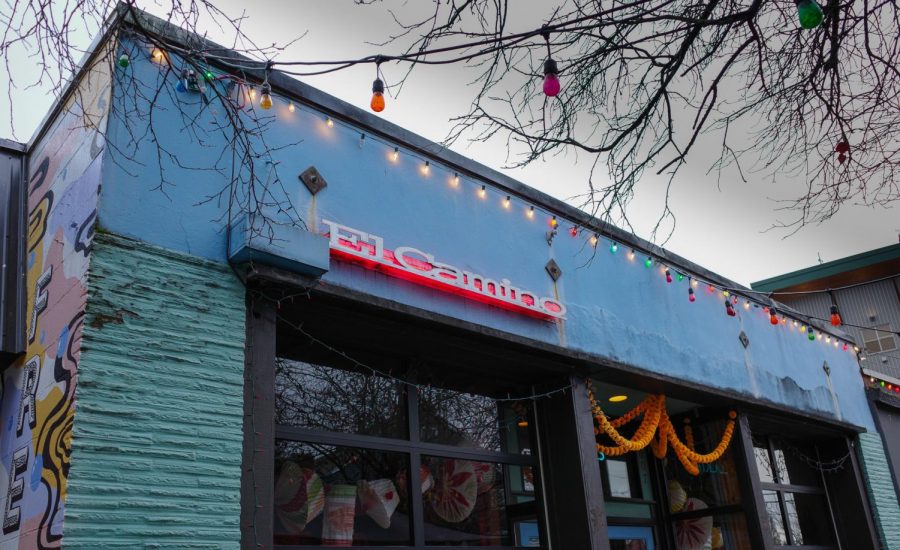 On a miserable November night, pitch black by five, with rain coming down by the bucketfuls, El Camino created a warm and joyous dining experience. Located on a quaint sidestreet in the heart of Fremont, El Camino would normally be a perfect spot for outdoor dining. However, Seattle's infamous fall weather makes anything outside quite unenjoyable. Luckily, the front door of El Camino served as a portal into a Day of the Dead inspired interior full of warm colors, lively music, and mouth-watering flavors. 
From the get go, I could tell this didn't fit the mold of many Americanized Mexican restaurants. The paper cutouts that hung from the ceiling, plush red and turquoise cushions, bold paintings, mirrors in gilded frames, and the mariachi music that filled the room made it clear that El Camino was trying to stay close to home. This was echoed by a young staff member who said he is grateful for their commitment to Mexican heritage and believes it sets El Camino apart from others. 
I started the evening with a ceviche platter served with tortilla chips. It was fresh, with a strong lime flavor. It felt like a small zesty explosion on my pallet and woke my taste buds up. The strength of the lime actually made the flavor of the fish hardly noticeable, and made the ceviche feel more like a light salsa. I followed the ceviche with a beet salad. El Camino offered a southern spin to the salad that is usually a staple of Italian restaurants. It featured a sharp acidity thanks to the cilantro, lime vinaigrette, and red onions, a sharpness mellowed through poblano peppers and avocado. Both appetizers were great to start on as they utilized a variety of flavors and textures. On a side note, the lemonade I ordered was the best lemonade I have ever tasted (not trying to exaggerate); it was sweet right up until the tipping point of over sweetness and somehow managed to have a nice tartness to it as well. It came with an agave straw which was fascinating as I had never seen agave as an environmentally friendly alternative to plastic straws.
The food service was quick but professional and the friendly staff was open to all questions regarding the menu. After the fervent recommendation of my waiter, I ordered the Birria platter and it did not disappoint. Birria is a traditional Mexican stew made with a combination of chili pepper-based beef, garlic, cumin, and various other spices cooked at a low heat. Alongside the Birria came warm, soft tortillas, classic Spanish rice, and black beans. It was magical. The meat was rich and juicy and melted like butter in my mouth. It had a perfectly soft texture and the rice and beans had no flaws. 
The Birria was so delicious that it didn't leave much room for the desert: Pastel de Tres Leches. When the Pastel de Tres Leches arrived at the table it was clear I needed to make some room. Resting on a warm bed of caramel and creme anglaise, was a beautiful slice of cake topped with whipped cream, a sprig of mint, and coconut shavings. The texture of the cake was light and moist (a perfect sponge cake) and featured rich flavors thanks to the caramel and creme anglaise. This is a must try dessert!
The cake alone is worth the trip to El Camino but thankfully there is so much more to enjoy. From the varied menu to vibrant ambiance and friendly staff, El Camino has it all for a great dining experience.